OPI presenta la collezione Fiji della primavera 2017
Oggi voglio presentarvi la nuova collezione di OPI per questa primavera 2017: si tratta della nuova collezione Fiji. La collezione, infatti, propone ben 12 colori vivaci che si rifanno proprio alle nuance tipiche di questo paradiso terrestre.
I colori che ci propone questa collezione vanno dal rosso, al giallo, arancio, passando anche per i nude ed arrivano anche a nuance più intense come il grigio ed azzurro.
Today I'm going to show you the new collection by OPI for this spring 2017: this is the new Fiji collection. The collection offers us 12 vibrant colors that refer to the typical nuances of this earthly paradise.
The colors of this collection are from red to yellow, orange, passing even the bare and there's also a more intense shades such as gray and blue.
La collezione Fiji di OPI non sarà presentata solamente nella versione base, bensì anche nella Gel Color (lo smalto semipermanente) ed Infinity Shine che potrete abbinare al top coat specifico per avere uno splendido colore sulle unghie, ottenendo un effetto gel ma senza uso del lampada. I colori sono veramente splendidi e potrete approfittarne per provarne anche solo alcuni grazie ai mini set da 3 pezzi da 15 ml al costo di 49.90 CHF o da 4 mini size da 3.75 ml al costo di 24.90 CHF.
With the Fiji collection by OPI there aren't only the classic nail polishes, but also in the Gel Color (nail polishes semi-permanent) and Infinity Shine that can match with the top coat specifically to have a beautiful color on your nails, getting a gel effect but without use of UV lamp . The colors are beautiful and you can also take the opportunity to try some colors thanks to the mini set of 3 pieces of 15 ml at the cost of 49.90 CHF or 4 mini size from 3.75 ml to 24.90 CHF cost.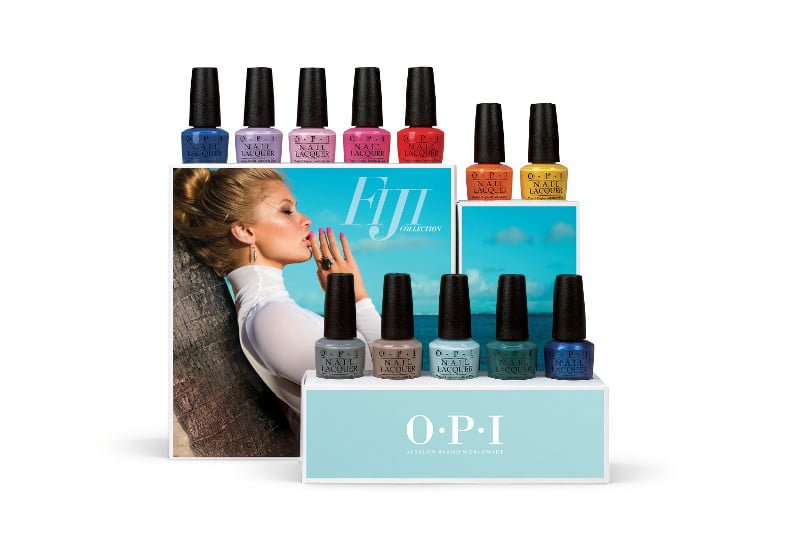 Two-timing the Zones – rosa forte/

hight pink

Living On the Bula-vard! – rosso/

red

Gettig Nadi On My Honeymoon – rosa ibisco/

pink hibiscus

Polly Want a Lacquer? – lilla/

lilac

Do You Sea What I Sea? – blu oceano brillante/

bright blue ocean

Is That a Spear In Your Pocket? – teal tropicale/

teal

I Can Never Hut Up – grigio iridescente/

Grey iridescent

Super Trop-I-Cal-I-Fiji-istic – turchese-blu/

turquoise-blue

Suzi Without a Paddle – azzurro/

light blue

Coconuts Over – taupe chiaro/

light taupe

No Tan Lines – arancione forte/

orange strong

Exotic Birds Do Not Tweet – giallo forte/

strong yellow
Troverete questi smalti proprio da oggi sul sito ufficiale OPI ed anche nelle migliori profumerie in Svizzera e in Italia. Gli smalti classici sono in vendita al costo di 19.90 CHF, mentre gli Infinite shine a 24.90 CHF.
You will find these nail polishes from today on the official website OPI and even in the best perfumeries in Switzerland and Italy. Classic nail polishes are available at the cost of 19.90 CHF, while the Infinite shine at 24.90 CHF.