Oggi vi parlo di fondotinta e più precisamente desidero mostrarvi una tra le ultime novità sfoggiate da Estée Lauder per quest'autunno inverno 2016: sto parlando del nuovo Double Wear Nude Cushion Stick Radiant Makeup di Estée Lauder (14 ml). Questo prodotto si presenta come un pratico stick che vi consentirà di applicare comodamente il vostro fondotinta: difatti, sfruttando la tecnologia del cushion avrete a disposizione una penna che sarà da tamponare sul vostro viso.
Today I'm going to show you a new foundation by Estée Lauder for this autumn winter 2016: I'm talking about the new Double Wear Nude Stick Cushion Radiant Makeup by Estée Lauder. This product is presented as a practical stick that allows you to pply your foundation with a simple gesture: in fact, using the technology of cushion, you will have a pen that will be buffered on your face the foundation.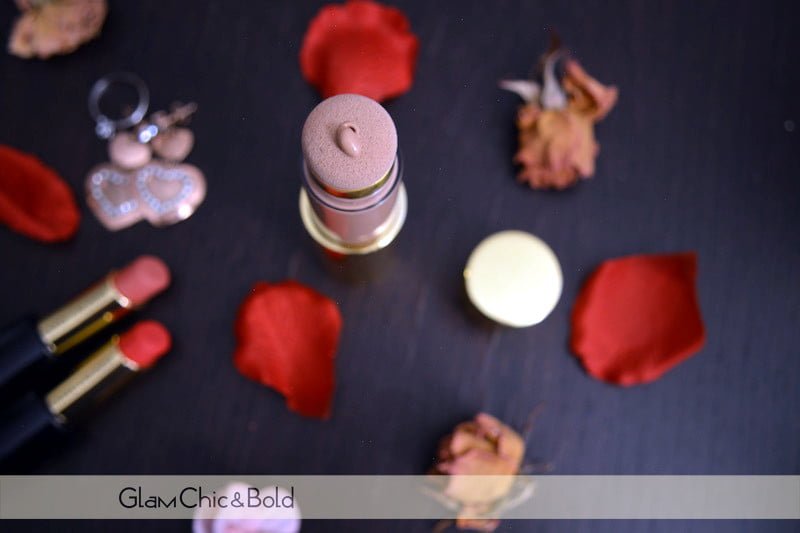 Vi basterà ruotare la base del vostro stick per far uscire la giusta quantità di prodotto e, nel caso in cui ne avesse preso troppo, potrete pure ruotare nel senso inverso per fare nuovamente ritrarre il prodotto in eccesso. Successivamente andate a tamponare ed uniformare il colore picchiettando ed usando dei movimenti circolari. In questo modo, il colore sarà steso in modo uniforme su tutto il visto! Io trovo che sia davvero un molto molto veloce di applicare il fondotinta e peraltro non richiede neppure l'utilizzo di un pennello o di una spugnetta.
Una volta applicato il vostro prodotto, potrete anche pulire la spugnetta integrata con lo stick: vi basterà svitare la spugnetta dall'anello oro, lavarla con acqua e sapone delicato, tamponare il tutto per eliminare l'acqua in eccesso e rimontarla sopra. Naturalmente, prima di chiudere il tappo fare asciugare completamente la spugnetta!
Turn the base of your stick to release the right amount of product and if you make mistake rotate in the opposite direction to portray the excess of product. Then go to dab and uniform color tapping and using circular movements on your skin. In this way, the color will be spread evenly on the whole seen! I find that it is a very very fast to apply makeup and moreover not even require the use of a brush or sponge.
Once applied your product, you can also clean the integrated sponge of the stick: you can just unscrew the sponge gold ring, wash it with mild soap and water, pat it to remove excess water and reassemble it over. Of course, before close the product pay attention that your sponge is dry!
Io l'ho già testato diverse volte e devo dire che effettivamente mi piace: oltre ad essere perfetto da portare con sé anche in viaggio – visto che non ci sono bottigliette di vetro che si possono rompere – potrete ottenere un risultato duraturo. Il ho visto che truccandomi di mattina riesco ad avere un incarnato uniforme e luminoso durante l'intera giornata; verso sera noto leggermente un po' di lucido in fronte, ma perché non ho voluto passare la cipria, visto che mi piaceva proprio l'effetto illuminato che dava al viso. Se tendete a lucidarvi per via della pelle grassa, date una spolverata di cipria in polvere!
Per quanto riguarda il colore, invece, io ho provato il n° 3C2 Pebble – che in Italia non è disponibile – e devo dirvi che purtroppo risulta leggermente più scuro del mio incarnato; quindi, se potete provare il fondotinta in negozio, fatelo pure onde evitare di sbagliare ed ottenere un colore non adatto alla vostra pelle.
Ad ogni modo, le nuance disponibili sono 6:  Pebble, Dessert Beige, Pale Almond, Ivory Beige, Fresco e Shell Beige. Voi avete già testato il fondotinta Double Wear Nude Cushion Stick Radiant Makeup di Estée Lauder?
I have already tested several times and I must say that actually I like it: as well as being perfect to take with you even when you travel- there are no glass bottles in your beauty bag – and you can get a lasting result. I saw that applying my make up during the morning I have a uniform complexion and bright make up throughout the day; the evening known slightly a bit 'of shiny forehead, but because I didn't want to pass the powder, since I liked just the lit effect that gave the face. If you have a oily skin, apply your favorite powder!
For the color,  I have tried the N° 3C2 Pebble – in Italy isn't available – and I must tell you that unfortunately is slightly darker than my color skin; so if you can try the foundation in the store, do it well in order to avoid mistakes.
However, the available shades are 6: Pebble, Dessert Beige, Pale Almond, Ivory Beige, Fresh and Shell Beige. Have you already tested the foundation Double Wear Nude Stick Cushion Radiant Makeup by Estee Lauder?