Oggi vi parlo di un prodotto Sephora, che trovate in Svizzera e in Italia: si tratta della maschera-patch occhi Sephora alle alghe, che svolge un'azione tonificante e detossificante nella zona della pelle che si va a trattare. Nel complesso, dunque, questa maschera per occhi aiuta ad eliminare impurità che vanno ad alterare la luminosità del contorno occhi. In questo modo, si potrà avere uno sguardo riposato, fresco e radioso.
La maschera-patch si applica veramente in modo molto semplice ed è monouso: vi basta aprire la confezione, afferrare i patch eliminando il film protettivo e poi dovete collocarli nell'area intorno all'occhio, andando a coprire la quasi tutto il contorno occhi. Una volta applicata, lasciatela agire per 15 minuti (io ho fatto pure 2 minuti in più e non è successo nulla) e poi rimuovete la maschera-patch occhi Sephora.
Today I'm going to speak of about the mask-patch eyes Sephora with algae, which plays invigorating and detoxifying action in the area of the skin that is going to treat. Overall, therefore, this eye mask helps to eliminate impurities that go to alter the brightness of the eye contour. This way, you can have a look rested, fresh and radiant.
The mask-patch is actually applied in a very simple and is for single use: you just open the package, grab the patch by removing the protective film and then you have to place them in the area around the eye, going to cover almost the entire eye area. Once applied, let it work for 15 minutes (I did well two minutes more and nothing happened) and then remove the mask-patch Sephora eyes.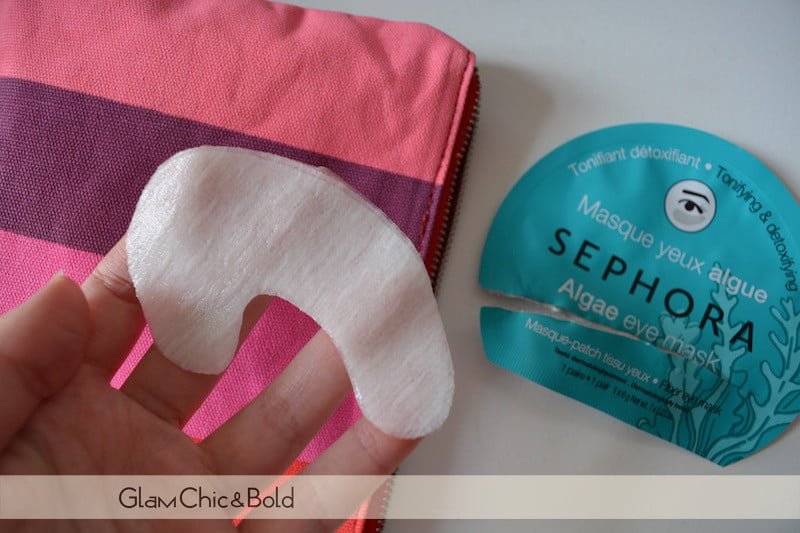 Come potrete notare il contorno occhi sarà veramente molto idratato: io vi consiglio di non rimuovere assolutamente l'eccesso di prodotto, ma di farlo asciugare e, se vi piace, massaggiate un po' l'area per far penetrare il tutto nella pelle. Sicuramente posso dirvi che la sensazione di fresco che percepite appena indossati i patch è davvero molto piacevole ed una volta termina l'azione sentirete l'area occhi leggera e riposata. Io ho notato un lieve rossore, ma credo perché si tratta di un'area delicata della mia faccia; ad ogni modo, è scomparso subito il rossore.
Potrete già acquistare maschera-patch occhi Sephora alle alghe da Sephora e Manor!
As you can see, the eye area will be very hydrated: I advise you not absolutely remove excess product but to dry it and, if you like, massaged a bit 'the area to penetrate into the skin all over. I can definitely tell you that the cool feeling you perceive just worn the patch is really very pleasant and once terminates the action feel the eyes slight area and rested. I have noticed a slight blush, but I think because it is a sensitive area of my face; however, the redness disappeared quickly.
You can already buy mask-patch eyes Sephora at Sephora and Manor!