Mac Cosmetics questa volta si ispira al magico mondo delle fate per presentare una tra le ultimissime collezioni già disponibile nei negozi: sto parlando della linea MAC Faerie Whispers. La nuova edizione limitata di Mac per il 2016 è costituita da colori assai delicati e romantici, in particolare sui colori nude, ed donano peraltro un tocco tridimensionale grazie alla presenza dei glitter.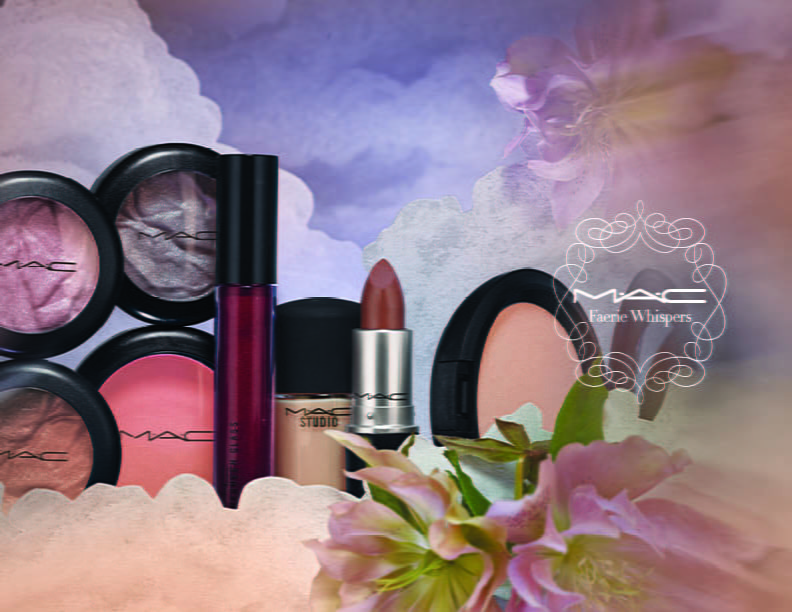 Let your innocence roam free. Transcend seasons with charmed hues inspired by the secret, wondrous world of fairies. Eyes flutter impishly in new Foiled Shadows, in luminous wet or dry shades that flicker like morning mist.
Mac Cosmetics for this time inspired by the magical world of fairies to present one of the latest collections already available in stores: I'm talking about the line MAC Faerie Whispers. The new limited edition of Mac for 2016 consists of colors very soft and romantic, especially the color nude, and give a three-dimensional touch to your look thanks to the presence of glitter.

Lipstick MAC Faerie Whispers – 28 CHF
Gossamer Wing (lustre), beige sporco con perle dorate/ 

dirty beigew/gold pearl

A Sprinkle of Magic (frost), arancio sporco nude/ 

dirty orange nude

Midsummer Night (cremesheen),  corallo mezzotono nude/

mid-tone coral nude

Among The Firefiles (cremesheen), marroncino chiaro/

soft mocha
Beauty Powder – 35 CHF
Pearl Sunshine,  pesca delicato con perlescenze di colore rosa/ 

soft peach w/pink pearl
Foiled Shadow – 31 CHF
In Your Eyes, lilla delicato/

soft lilac

Feminine Wiles, rosa chiaro perlato/

light pearly pink

Sweet Illusion, colore neutro chiaro/

light color neutral

 Fairy Land, champagne caldo/

warme champagne

Enchanted Forest, marrone intenso caldo/

warm rich brown

Joy Toy, rame rosato/

pink coper

Faerie Fayre, mezzotono terracotta pesca/

mid-tone peach terracotta

Fly By Twilight, tortora/

taupe
Cremesheen Glass- 32 CHF
Softly Lit, rosa chiaro perlato

/sheer pink w/pearl

Calypso Beat, rosa neutro perlato/

neutral pink w/pearl

Just Superb, rosa neutro con sottotono grigio/

neutral brown

Enchanter Copper, bronzo perlato/

copper brown w/pearl
Powder Blush – 33 CHF
Cheek Pollen (satin),  nude caldo/

warm nude

Spellbinder (satin)  rosa-giallo pastello/

pastel yellow pink
MAC Studio Nail Lacquer – 18 CHF
Sweet Potion (cream), beige delicato nude/soft beige nude
Spelldazzling (frost), oro rosa perlato glitterato/

rose gold w/pearl
Il colore che vedete qui sotto è per l'appunto Spelldazzling. Non mi fa impazzire perché come potete vedere non copre l'unghia e quindi ve lo consiglio principalmente come se fosse un top coat, da applicare sopra ad altri smalti.
In this pic you can see the one nail lacquer Spelldazzling. I don't like very much this color because the nails are visible so I suggest to use it such as a top coat, on another color. 
Brush
221 Mini Tapered Blending Brush – 34 CHF
133 Small Cheek Brush – 54 CHF