Oggi desidero mostrarvi da vicino la nuovissima palette di Urban Decay, realizzata in collaborazione con la cantante Gween Stefani: a tal proposito, vi mostrerò da vicino i colori con gli swatches palette Gween Stefani Urban Decay. Questa palette la potrete acquistare da Sephora al costo di 52.90 € oppure da Manor e Marionnaud a 63 CHF.
Today I'm going to show you the beautiful palette by Gween Stefani for Urban Decay: you can buy it in Switzerland at Manor and Marionnaud at the cost of 63 CHF, while in Italy you can buy it at Sephora at the cost of 52.90 €. In this article you can see the swatches palette Gween Stefani Urban Decay!
Iniziamo con il dire che questa palette contiene al suo interno 15 cialde con ombretti dal finish diverso, shimmer ed opachi. Il packaging, come potete ben notare già dalla scatola, è particolarmente curato ed è di colore oro.
Pensando ad una cantante, solitamente ci vengono in mente colori strambi da inserire all'interno di una paletta, ma in realtà la proposta di Gween Stefani per Urban Decay si presenta abbastanza versatile, con tonalità adatte per tutti i gusti.
All'interno della palette troviamo colori più intensi, perfetti per un look da sera (come il blu, l'oro, il borgogna, il nero ed il rosa), ma troviamo anche colori neutri come l'avorio, il marrone, il rosa chiaro ed il color burro. Alcuni dei colori presenti all'interno della palette Gween Stefani Urban Decay Skimp, Stark della Naked Basics 2 e Blackout della Naked 2.
All'interno della palette troviamo pure un pennello a doppia punta, ideale per stendere il colore e sfumarlo.
Let's start to speak about the palette: this palette contains within 15 waffles with eyeshadows from different finish, shimmer and matte. The packaging, as you can already notice the box, is superior and is colored gold.
Thinking of a singer, usually come to mind wacky colors to be inserted inside a scoop, but in reality the proposal Gween Stefani for Urban Decay looks quite versatile, with shades suitable for all tastes.
Within the palettes are more intense colors, perfect for an evening look (such as blue, gold, burgundy, black and pink), but there are also neutral colors like ivory, brown, pink clear and colored butter. Some of the colors within the palette Gween Stefani Urban Decay skimp, the Stark Naked Basics 2 Blackout and the Naked 2.
Within the palette we are also a double-headed brush, ideal for hanging the color and shadow them.
Swatches Palette Gween Stefani Urban Decay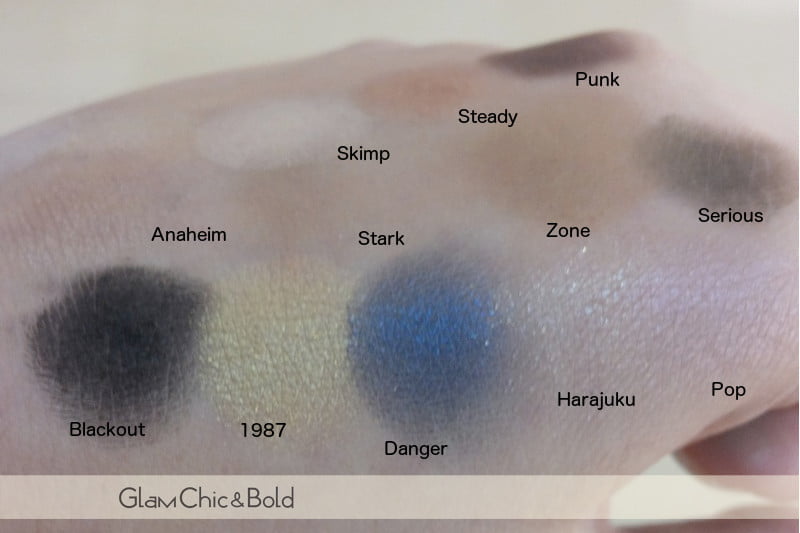 Qui di seguito elenchiamo in dettaglio tutti i colori e potete notare gli swatches palette Gween Stefani Urban Decay:
Blackout – nero profondo/

deep black (matte)

1987 – oro chiaro/

light gold (shimmer)

Danger – Royal blu profondo e metallico con micro-glitter/

Deep metallic royal blue with blue micro-sparkle

(shimmer)
Harajuku – Blu-rosa metallico con micro glitter iridescenti /

Metallic blu-pink with iridescent micro-shimmer

(shimmer)
Pop – Corallo opaco con brillantini iridescenti/

pale coral with iridescent sparkle

(shimmer)
Serious – Grigio fumoso con un tocco di perla iridescente/

Smoky gray with iridescent floating pearl

(shimmer)
Zone – Marrone medio opaco/

Medium Brown Matte

(matte)
Stark – Rosa-Nude opaco/

Nude-Pink matte

(matte)
Anaheim – marrone tortora chiaro opaco/

light taupe-brown matte

(matte)
Baby – Rosa metallico/

Cool Metallic Rose

(shimmer)
Punk – Marrone rosso opaco/

Reddish Brown matte

(matte)
Steady – rosa medio con una punta metallica di oro/

Medium Rose With Metallic Gold Shift

(shimmer)
Skimp – Nude pallido satinato/

pale nude satin

(matte)
Bathwater – beige pallido con una punta di oro perlato/

pale beige with gold pearl

(shimmer)
Blonde – beige pallido con una punta di rosa iridescente/

pale beige with pink iridescent shift

(matte)
Chi di voi l'ha già acquistata e la sta provando? Fatemi sapere che cosa ne pensate 😉
Did you already buy the palette Urban Decay? What do you thing about it? Leave me a comment and tell me your opinion 😉