Come saprete bene, abbiamo bisogno di idratare la nostra pelle bevendo almeno 2 litri di acqua, ma oggi desidero segnalarvi una linea di prodotti che ci aiuta proprio ad idratare la nostra pelle: si tratta della collezione Moisture Surge di Clinique, di cui ho potuto testare la crema e la maschera notte.
As you know well, we need to hydrate our skin drinking at least 2 liters of water, but today I want to show you a product line that helps us to hydrate our skin: it is the Moisture Surge collection by Clinique, which I could test the cream and night mask.
Moisture Surge Extended Thirst Relief (30/50 ml – 19/35 CHF)
Questo gel rinfrescante si assorbe rapidamente sulla pelle e, inoltre, è in grado di donare sollievo istantaneo alla pelle, specie se questa risulta arida, facendo durare l'idratazione per 24 ore, anche se si verificano sbalzi di umidità. Questo prodotto, peraltro, non è suggerito solamente come gel per il viso, bensì anche come maschera da tenere in posa per 5 minuti.  Moisture Surge Extended Thirst Relief di Clinique è consigliato per tutti i tipi di pelle.
Come potete notare la pelle apparirà morbida e liscia, ma soprattutto sarà a lungo idratata!
This refreshing gel is rapidly absorbs on the skin and give instantaneous a relief to the skin, especially if your skin is dry, making last hydration for 24 hours, even if they occur changes in humidity. This product,  is not only suggested as a gel for the face, but also as a mask to keep it on for 5 minutes. Moisture Surge Extended Thirst Relief by Clinique is recommended for all skin types.
Your skin will look soft, smooth and long-hydrated!
Moisture Surge Overnight Mask (100 ml – 52 CHF)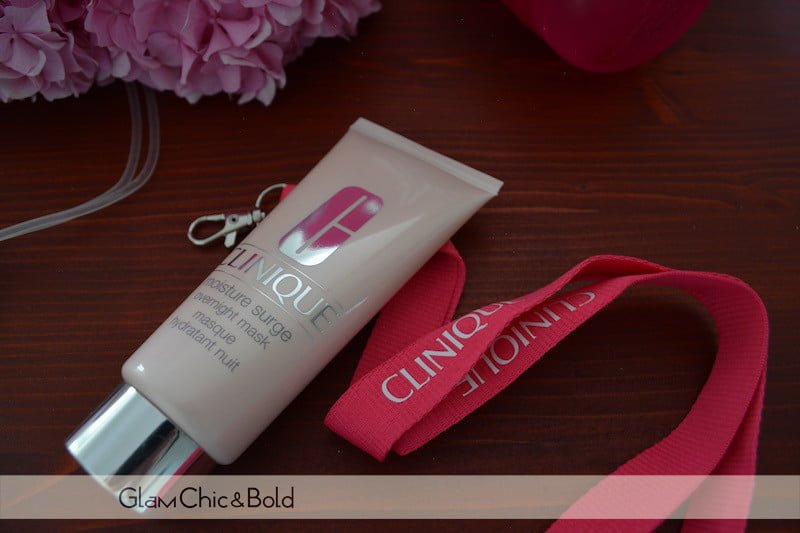 Durante la giornata la nostra pelle può danneggiarsi per diversi motivi – inquinamento, condizioni atmosferiche particolari ecc – e proprio per questo è necessario ripararla la notte con un prodotto speciale come questo che vi presento oggi! Moisture Surge Overnight Mask é in grado di idratare a fondo la pelle, riparando e rafforzando la barriera cutanea e, inoltre, previene anche la disidratazione ed i primi segni del tempo. Peraltro, è pure in grado di lenire la pelle e calmare la pelle stressata.
During the day our skin can be damaged for different reasons – pollution, extreme weather conditions, etc. – and for this reason it is necessary to fix the night with a special product like this that I'm going to show you today! Moisture Surge Overnight Mask by Clinique is able to moisturize skin thoroughly, repairing and strengthening the skin barrier, prevents dehydration and the first signs of the time. Moreover, it is also able to soothe the stressed skin.