Il tema principale della collezione Catrice autunno inverno 2015-2016 sarà il desiderio per la vita e proprio con questo motto si preannuncia una collezione ricca di novità e che va in linea con le tendenze di questo periodo dell'anno.
Il color cioccolato sarà il nuovo nero durante questa seconda parte dell'anno. Aumentano pure le tonalità morbide e sottili e gli occhi si vestono di toni caldi con marrone e nude di tono scuro, sia con effetto opaco che perlato. Naturalmente, non possono mancare le texture a lunga tenuta che garantiscono un makeup impeccabile per diverse ore (vedi per esempio la nuova Absolute Chocolate Nudes Eyeshadow palette di Catrice). Le sopracciglia, invece, sono definite e fanno da cornice al look. Nel complesso, dunque, il make up degli occhi fa un passo indietro e lascia spazio al colore, enfatizzando le labbra. Ad ogni modo, non mancano i set per creare il giusto trucco ed essere alla moda.
A pure desire for life – that's CATRICE. The brand is heading into the Autumn/Winter season 2015 with this feeling in mind!
Beauty & Style. The international fashion shows offer the drive while high-quality, innovative products provide the motivation. Inspired by the fashion trends of the Autumn/Winter season 2015, CATRICE presents the latest make-up highlights for the second half of the year. 
Chocolate is the new black. Soft and subtle shades are on the rise. The new smokey eyes are created with warm brown and dark nude tones this Autumn/Winter. The textures are long-lasting and offer matt as well as pearly effects – this is also the case with the new Absolute Chocolate Nudes Eyeshadow Palette by CATRICE. Defined eyebrows provide the matching frame and their look is a bit wilder and undone this coming season. Overall, eye make-up takes a step back in favour of colourful, emphasized lips. Individual highlights are set with bronze Eyeliners, the new Kohl Kajal, or Eyeshadows.  
Scuri, estroversi e sensuali: così si presentano i nuovo rossetti che includono pure rossetti dai colori forti come il prugna, frutti di bosco, merlot e melanzana. L'effetto che si può notare sulla bocca non è sempre lo stesso: si va dal lucido al semi-opaco.
L'incarnato dovrà essere pulito e ben definito e per fare questo si potranno utilizzare i nuovi prodotti come il Prime and Fine Professional Contouring Palette, che aiuta a scolpire e definire la faccia, senza però dimenticare neppure un tocco di blush sulle gote.
Passando agli smalti, i colori si fanno scuri e freddi ed oltre alle tonalità di nero ci sono le sfumature del caffé, ma non mancano neppure le proposte per creare look nude sulle unghie.
Fashion Statement. Dark, extroverted and sensual. The new lipstick colours include intensive deep-plum, berry, merlot and aubergine. With various effects ranging from glossy to semi-matt, they are the eye-catcher and accessory of the season. In addition to an intensive colour-dispersion, there is a demand for further benefits such as pampering ingredients and 2-in-1 products with innovative formulas – like the new Shine Appeal Fluid Lipstick.  
Clean and defined. A flawless, radiant complexion is the indispensible basis for all make-up styles. New contouring products such as the Prime and Fine Professional Contouring Palette, provide the face with structure, add depth and set targeted highlights. A touch of colour on your cheeks perfectly completes the look. 
Black-à-Porter. Dark nail polishes hit the mark during the colder half of the year. Besides black and nearly black shades, intensive coffee nuances are setting new standards. Eye-catching effect polishes give way to geometric and minimalistic lines. The focus is increasingly on classic manicures in statement colours as well as numerous natural nude shades like the Luxury Nudes. There is also a preference for pampering multi-benefit products, which includes the CC Care & Conceal polishes in soft colours with keratin ingredients.
Qui di seguito ecco l'assortimento della collezione Catrice Autunno Inverno 2015-2016 che potrai trovare nei negozi da Luglio 2015:
Here you can find all products that you'll find from July 2015:
CATRICE Absolute Eye Colour Mono Eyeshadow – 2.79 €
27 colori dai finish opaco, perlado e brillante/

27 nuances with matt, shimmering and pearly finish.
CATRICE Velvet Matt Eyeshadow – 3.99 €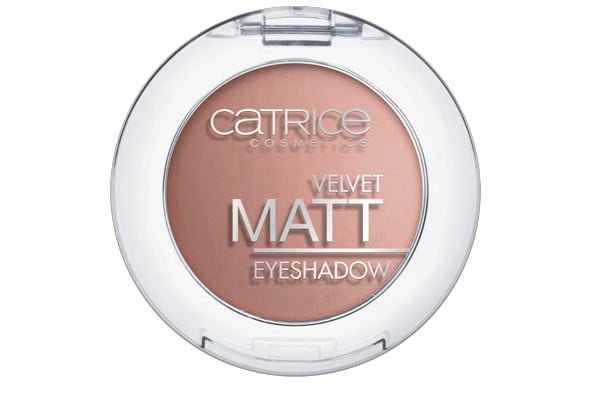 CATRICE Deluxe Trio Eyeshadow – 4.79 €
CATRICE Absolute Chocolate Nudes Eyeshadow Palette – 4.99 €
CATRICE Eye'Matic Eyepowder Pen – 3.99 €
CATRICE Eye'Matic Dip Liner Waterproof  – 3.29 €
CATRICE Kohl Kajal (1.99 €) & CATRICE Liquid Metal Gel Eye Pencil (3.29 €)
CATRICE Lash Boost – Lash Growth Overnight Serum 4.99 €
CATRICE Luxury Lashes Volume Mascara 4.79 €
CATRICE Lashes To Kill Ultra Curl (3.99 €)& Volume Mascara  & CATRICE Lash Curler (3.99 €)
CATRICE Longlasting Brow Definer – 3.29 €
CATRICE Fixing Brow Wax- 3.29 €
CATRICE Pure Brilliants Colour Lip Balm – 4.99 €
CATRICE Shine Appeal Fluid Lipstick – 3.99 €
CATRICE Glossy Lip Glow (3.99 €)& CATRICE Longlasting Lip Pencil (1.99 €)
CATRICE Ultimate Stay Lipstick – 4.99 €
CATRICE Beautifying Lip Smoother – 3.49 €
CATRICE Ultimate Colour Lip Colour – 3.99 €
CATRICE Even Skin Tone Beautifying Foundation – 7.49 €
CATRICE Nude Illusion Make-up (7.49€),  Velvet Finish Foundation with Hyaluron (7.99 €) & Liquid Camouflage – High Coverage Concealer (3.49 €)
CATRICE Prime and Fine Dark Circle Eraser – 3.99 €
CATRICE Prime and Fine Professional Contouring Palette(4.99 €) & CATRICE Velvet Finish Powder with Hyaluron (4.99 €)
CATRICE Illuminating Highlighter Pen – 3.99 €
CATRICE Highlighting Powder (3.99 €), Sun Glow Mineral Bronzing Powder  (4.99 €),CATRICE Multi Matt Blush (3.99 €) & CATRICE Defining Blush (3.49 €)
CATRICE CC Care & Conceal – 2.79 €
CATRICE Luxury Nudes – 2.79 €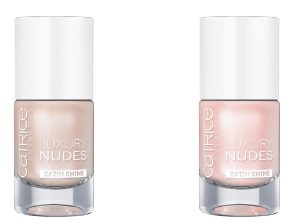 CATRICE Luxury Lacquers Liquid Metal – 3.49 €
CATRICE Million Styles Top Coat – 2.99 €
CATRICE Ultimate Nail Lacquer (2.79 €), CATRICE Effect Boosting Base Coat (2.79 €) CATRICE Effect Boosting Base Coat (2.79 €)
CATRICE Pro Care Nail Oil – 3.49 €