Ogni anno l'appuntamento con i migliori calendari dell'avvento beauty per il Natale è davvero irrinunciabile: proprio per questo, ho deciso di mostrarvi ogni singolo calendario dell'avvento beauty dei vari brand di trucco. Quindi, oltre ai tradizionali regali che troverete nelle migliori profumerie, potrete anche acquistare un calendario dell'avvento in profumeria. Diamo un'occhiata da vicino alle proposte dei migliori calendario dell'avvento 2017 da collezionare per il make up e skin care in miniatura.
Christmas is coming and for this reason I decided to show you the best beauty advent calendar for Christmas 2017. There are a lots of new calendar that you can buy and open the doors every day in December. You'll fin big and small surprise in every doors such ad make up and skin care products. Let's go to discover the best beauty advent calendar 2017!
Calendario dell'avvento Essence 2017/
Advent Calendar Essence 2017
Iniziamo con una proposta economica dei migliori calendari dell'avvento e parliamo di Essence: quest'anno il calendario si presenta con una grafica completamente natalizia, sia all'esterno che all'interno. Il marchio tedesco ci propone 24 caselle arricchite con prodotti cosmetici, al costo di 24.99 euro, che potrete prendere sul sito tedesco Kosmetic4less e inoltre, è disponibile anche su Manor.ch per 29.90 CHF. La spedizione è garantita sia in Italia che in Svizzera!
Are you ready for the first beauty advent calendar? The first is by Essence that has a christmas decoration as packaging, with 24 doors, with big and small products hidden behind the doors. You can buy it on the German website Kosmetic4less at the cost of 24.99 € and Manor at 29.90 CHF. This site ship the advent calendar by Essence in Switzerland and Italy!
Calendario dell'avvento Sephora 2017/
Beauty Advent Calendar Sephora 2017
Quello di Sephora è il primo calendario dell'avvento ricevuto quest'anno: si tratta del Winter Wonderland di Sephora e come potete notare si compone di 24 caselle – tutte rosa e con motivo natalizio – che contengono al loro interno prodotti per il make up, per la skin care ed altri accessori. A fine ottobre lo potrete acquistare in negozio, sia in Svizzera al costo di 39.90 CHF che in Italia al costo 35 €.
This beautiful beauty advent calendar by Sephora has 24 exclusive Sephora products for make up, skin care, bath and body. Its packaging in rose is perfect to enjoy this Christmas 2017. You can buy this beauty advent calendar by Sephora in Switzerland at the cost of 39.90 CHF and in Italy for 39.90 €.
Se siete curiose di conoscere il contenuto leggete la lista, altrimenti lasciatevi cullare dal mistero:
If you want read what you'll find behind the 24 doors:
Sleeping Mask in Lotus
Creamy Body Wash Capsule in Cotton Flower, Lagoon, Peony
Fizzing Cube in Cotton Flower
Express Eye Makeup Remover Wipes
Fingertip Eyeliner in 01 Smart Black
Eye Pencil Liner to go in N09 Intense Black
Removable Eyeshadow Pan in N298 Tiramisu
Universal Brow Freeze in 01 Clear
Blush in N05 Sweet On You
Lip Pencil to go in N03 Classic Red
Cream Lip Stain Lipstick in 01 Always Red
Nail Polish in L43 It-Girl
Instant Nail Polish Wipes
Ribbon hair tie
Pocket mirror
Ribbon
Post-it stickers
Badges
Nail file
Calendario dell'avvento Nyx/
Beauty advent calendar Nyx 2017
Se siete delle amanti dei rossetti e gloss, non potrete farvi sfuggire il calendario dell'avvento beauty Lippie Coundown di Nyx: ci sono ben 24 caselle che custodiscono diversi prodotti per labbra come rossetti in stick, rossetti liquidi e gloss. Il calendario dell'avvento di Nyx è disponibile sia in Italia che in Svizzera ai rispettivi costi: 60 € da Feelunique e 79.90 CHF da Manor.
Lippie Countdown is the beauty advent calendar by Nyx: if you are a lipstick lover, this is perfect for you. In fact, you'll find 24 products for your lips in mini-size. You can buy this advent calendar at Freelunque for 60 € (shipping in Italy) and Manor at 79.90 CHF!
Calendario dell'avvento Lush 2017 /
Advent Calendar by Lush 2017
Pronti a festeggiare il Natale 2017 anche con Lush? Se siete alla ricerca di prodotti per la cura del vostro corpo, il calendario dell'avvento di Lush fa proprio al caso vostro: all'interno vi sono nascosti ben 12 prodotti ed il suo packaging ricorda proprio l'orologio che qualcuno vorrebbe vedere sotto l'albero di Natale. Potrete acquistarlo per 150 CHF da Lush in Svizzera e in Italia (prossimamente)
Are you ready to celebrate this Christmas 2017 with Lush?If you are looking for body care products, Lush's advent calendar is the right solution for you: inside there are 12 products hidden. I love its packaging with a clock. You can buy it for 150 CHF at Lush in Switzerland and in Italy for (soon)
Qui di seguito ecco l'elenco di quello che troverete/Here you can read what you'll find behind the doors:
Bubbly shower gel SP
Never Mind the Ballistics bath bomb
Golden Wonder bath bomb
Plum Snow bubble bar
Christmas Eve, bubble bar,

Snow Fairy shower gel SP

Cracker bubble bar

Baked Alaska soap

Christmas Sweater bath bomb

Bucks Fizz body lotion

Sherbet Dip bath bomb

Shoot for the Stars bath bomb
Calendario dell'avvento Bottega Verde/
Beauty Advent Calendar Bottega Verde 2017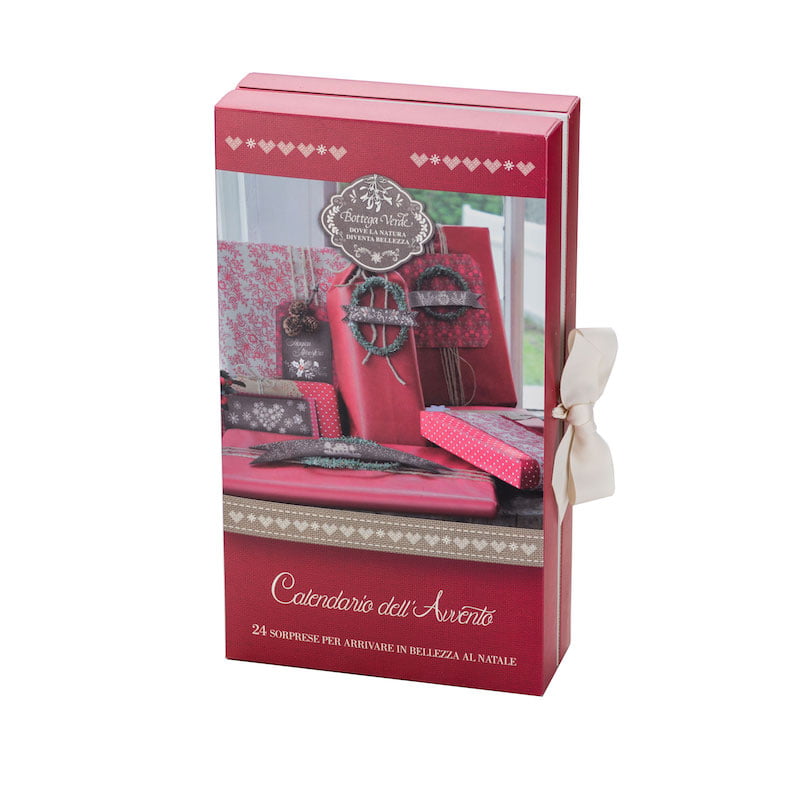 Anche Bottega Verde ci propone uno splendido calendario dell'avvento beauty per il Natale 2017: all'interno troviamo ben 24 caselle con prodotti ed accessori in formato mini. Potrete acquistarlo in anteprima dal 23 ottobre 2017 sul negozio online e dal 3 novembre 2017 direttamente in negozio, al costo di 36.99 €.
Bottega Verde launch the new beauty advent calendar for Chirstmas 2017: behind the 24 doors you'll find a lots of mini-size products and accessorizes. You can buy it online from 23th October 2017 and in the boutique from 3th November 2017 at the cost of 36.99 €.
Calendario dell'avvento Essie 2017/
Beauty advent calendar Essie 2017
Questo è il regalo perfetto per tutte le ragazze che amano i prodotti per le unghie: infatti, il calendario dell'avvento di Essie per il Natale 2017 si compone di 24 caselle dove troverete prodotti sia di formato originale che in formato mini. Lo potrete acquistare da Manor, Import Parfumerie e Coop per 99 CHF oppure per 49.95 € su Amazon.
This is the perfect gift for all girls who love nail products: in fact, the calendar for the advent by Essie for Christmas 2017 composed from 24 doors where you will find products in original size and mini-size. You can buy at Manor, Import Parfumerie and Coop for 99 CHF or on Amazon for 49.95 €.
Ecco il suo contenuto/Here you can see all products of the advent calendar:
7 smalti in formato originale/

7 nail polishes in original size

13 mini-formato di smalti dai colori esclusivi/

13 mini-size nail polishes in exclusive colors

1 mini-solvente per unghie/

1 nail polish remover in mini-size

3 accessi Essie(lima, buffer, separadita)/

3 accessorizes (nail file, buffer and finger spacer)
Calendario dell'avvento The Body Shop/
Beauty advent calendar 2017 The Body Shop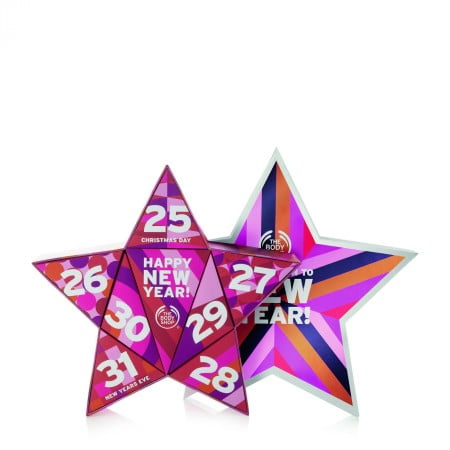 Proseguiamo nella lista del calendari dell'avvento per Natale 2017 ed ora parliamo di The Body Shop che ci propone un calendario dell'avvento e una speciale stella che, in realtà, è per attendere il Capodanno. Al loro interno, come di consueto, vi sono prodotti pensati per il corpo. Potrete acquistare il vostro calendario dell'avvento in Svizzera al costo di 129.95 CHF (quello verde) e 134 CHF quello a forma di stella.
Let's go to the other brand: this time I'm going to speak about The Body Shop that propose us two advent calendar for Christmas 2017. As usually, there are a lots of products for body care. You can buy them in Switzerland at 129.95 CHF (green box) and 134 CHF for the star box.
Calendario dell'avvento Alessandro Internationl/
Advent calendar by Alessandro International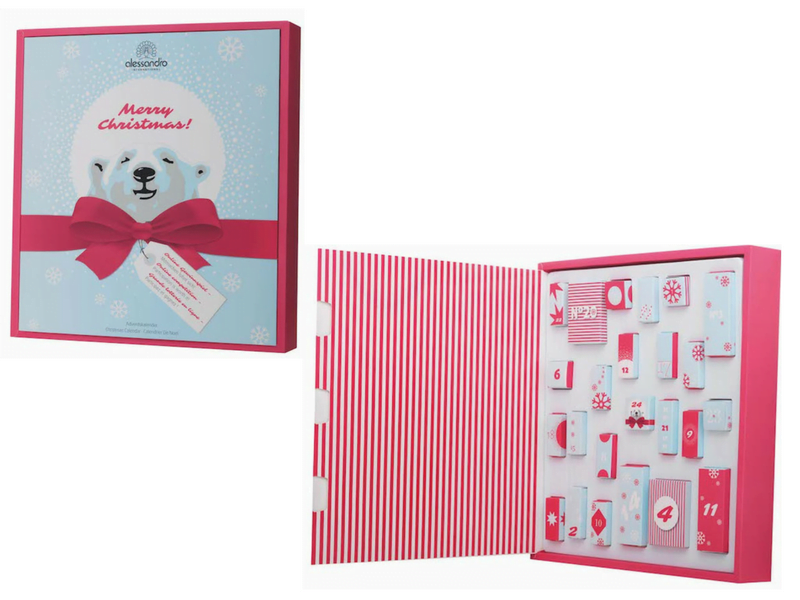 Il prossimo calendario dell'avvento di cui vi parliamo è quello di Alessandro International: questo calendario è ugualmente perfetto per quelle persone che amano i prodotti dedicati al mondo delle unghie. Quindi se state cercando qualcosa di particolare e carino, il calendario dell'avvento di Alessandro International fa proprio per voi. Ci sono 24 caselle con prodotti per le unghie ed il costo è di 79.90 CHF.
The next advent calendar is by Alessandro International: behind the 24 doors you'll find products for your nails signed by Alessandro International. You can buy it at the cost of 79.90 CHF.
Calendario dell'avvento Rituals/
Advent calendar Rituals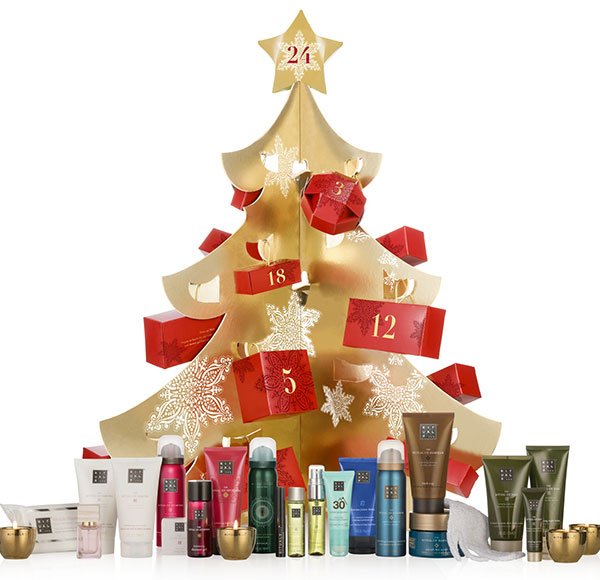 Anche quest'anno da Sephora troverete lo splendido calendario dell'avvento di Rituals, dove al suo interno vi sono ben 24 regali da aprire in attesa del natale. Come potete notare si tratta sia di prodotti mini-size che full size per la cura del corpo, ma anche prodotti per la casa come le candele. Il calendario sarà in vendita in Svizzera al costo di 99 CHF e in Italia al prezzo di (in aggiornamento).
For this years there is again a beautiful advent calendar by Rituals with 24 boxes with mini-size and traditional size for your body and your home. You can buy this beauty advent calendar at Sephora in Switzerland for 99 CHF and in Italy (soon).
Calendario dell'avvento Kiehl's/
Beauty advent calendar Kielh's
Anche il marchio Kielh's ci propone un nuovo calendario dell'avvento per questo Natale 2017 e troverai prodotti nel formato mini e full-size. Come potrete ben immaginare si tratta di una proposta perfetta per coloro che amano prendersi cura della propria pelle. Potrete acquistare il calendario dell'avvento beauty di Kielh's online o in negozio, in Svizzera e Italia, per il costo di 63 CHF e 69 €.
If you are a lover of Kielh's you can find the beauty advent calendar for this Christmas 2017: you'll find behind the doors many body products in mini and full size. If you want buy it, you'll can find at shop online, Jelmoli and Mariounnad, in Switerzaland for 63 CHF and in Italy in the boutique, Coin and webshop at 69 CHF!
All'interno troverete i seguenti prodotti/ You'll find this products:
Crème de Corps Whipped 15g
Amino Acid Shampoo 30ml
Powerful Strength Line Reducing Concentrate 5ml
Calendula Cleanser 30ml
Lip Balm #1 15ml *FULL SIZE*
Grapefruit Body Scrub 5ml
Ultra Facial Cream 7ml
Ultra Facial Cleanser 75ml *FULL SIZE*
Calendula Toner 40ml
Rare Earth Masque 14gr
Creamy Eye Treatment with Avocado 14gr *FULL SIZE*
Crème de Corps 5ml
Amino Acid Conditioner 30ml
Midnight Recovery Cleansing Oil 3ml
Blue Herbal Toner 40ml
Ultra Facial Oil-Free Gel Cream 7ml
Mom & Baby Cream 5ml
Hydro Plumping 5ml
Clearly Corrective Dark Spot 1,5ml
Midnight Recovery Eye 3ml
Cranberry Masque 14gr
Midnight Recovery Concentrate 4ml
Daily Reviving Concentrate 2ml
Hand Salve Cream 75ml *FULL SIZE*
Calendario dell'avvento L'Occitane/
Beauty advent calendar L'Occitane
Come non citare anche il calendario dell'avvento di L'Occitane per il Natale 2017? Anche quest'anno il marchio francese ci propone una serie di prodotti da scoprire giorno dopo giorno in attesa dei festeggiamenti. Quest'anno però ne troveremo ben due varianti: il primo incentrato sui prodotti per la cura ed igiene (Calendario Classic) del corpo e l'altro anche con prodotti per la cura del viso. Saranno in vendita sia in Svizzera che Italia al costo di 49 € e 99 € e 59 CHF e 139 CHF. Vi segnalo peraltro che il marchio ha preparato tanti splendidi cofanetti per questo Natale, davvero imperdibili!
I can't forget to suggest you the beauty advent calendar by L'OCCITANE: in fact for this Christmas 2017 there are a classic and premium version. Behid the 24 doors you'll find mini-size and full-size products for your body and skin care! You can buy it in Switzerland and Italy for 59 CHF and 139 CHF and 49 € and 99 €.