I solari Coola Suncare per l'estate 2016
L'azienda canadese Coola produce protezioni solari adatte per tutti i tipi di pelle e per le attività sportive. Questi solare, come potete ben vedere, si presentano sottoforma di pratici spray e permettono di applicare una protezione uniforme sulla pelle, senza neppure ungere le mani.
Le linee a disposizione sono due Body e Sport, in base all'utilizzo che desiderate fare: la prima linea, difatti, ha una resistenza all'acqua inferiore rispetto a quella dello Sport. Si parla di una durata di 40 minuti contro gli 80 minuti della proposta per chi fa sport.
The Canadian company Coola produces  sunscreens suitable for all skin types and for sports activities. These sun protection, as you can see, take the form of practical spray and allow to apply a uniform protection to the skin, without even grease your hands.The lines available are two Body and Sport, depending on how you want to do: the first line, in fact, has a lower water resistance than that of the Sport, 40 minutes compared to 80 minutes.
Questi spray solari sono pure in grado di nutrire la pelle e ripararla allo stesso tempo, grazie alla presenza di ingredienti organici inattivi come il cetriolo, gli estratti di alghe e fragole e l'olio di semi di lampone, che fanno da scudo alla pelle. Io ho potuto testare quello al cetriolo fresco ed al noce di cocco tropicale con SPF 30, ma in realtà vi sono quello alla Piña Colada, Citrus mimosa ed anche quello senza profumazione per chi non gradisce. I Coola Suncare sono ipoallergenici, contengono antiossidanti contro l'invecchiamento e niente parabeni.
Una cosa che mi piacere molto di questi prodotti è pure il loro packaging: oltre ad essere in un meraviglioso colore azzurro, il tappo si può svitare per evitare la fuoriuscita di prodotto.
These solar sprays are well able to nourish the skin and fix it at the same time, thanks to the presence of organic inactive ingredients like cucumber, the seaweed  and raspberry extract and seed oil, which act as a shield to the skin. I tried the fresh cucumber and the tropical coconut with SPF 30, but there are actually what the Piña Colada, Citrus mimosa and also the free fragrance  for those who do not like the scents. The Coola Suncare are hypoallergenic, contain antioxidants and no parabens.
One thing that I like very much of these products are their packaging: in addition to being in a beautiful blue color, the cap can be unscrewed to prevent the flow of product.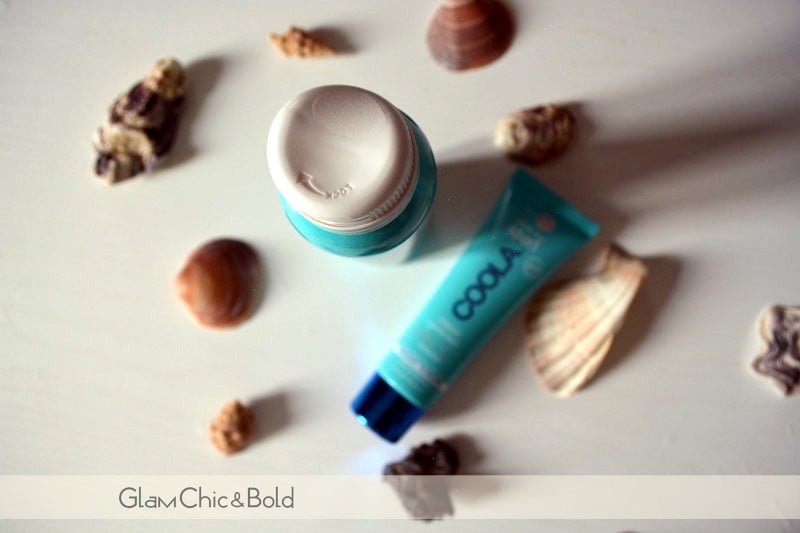 Le due proposte della linea Sport che ho provato hanno fattore di protezione SPF 50: uno si presenta in un pratico spray formato che si può portare anche in viaggio dal fragranza Guava-Mango, mentre l'altro prodotto è una crema pensata esclusivamente per il viso.
Questo prodotto ha una profumazione assai naturale, con té bianco, ed al suo interno contiene pure altri ingredienti attivi organici come l'enotera ed i semi di lino che riducono le infiammazioni, l'olio di cartamo che idrata a lungo, l'estratto di placton che ringiovanisce la pelle e l'olio organico di Acai che ha proprietà anti-aging.
Naturalmente, vi ricordo che tutti i solari vanno applicati almeno 15 minuti prima dell'esposizione e che devono essere nuovamente applicati dopo il bagno oppure se avete sudato troppo. In questo modo sarete sempre protetti!
The other two line Sport that I've tried have SPF 50: one is in a convenient spray format that you can carry with you during holiday with Guava-Mango fragrance, while the other product is a cream designed exclusively for the face .
This product has a very natural fragrance, with white tea, and within it also contains other organic active ingredients such as evening enotera and oil of flaxseed that reduce inflammation, safflower oil that moisturizes for long time, extract plankton that rejuvenates the skin and organic Acai oil which has anti-aging properties.
Of course, I remind you that all solar should be applied at least 15 minutes before exposure and need to be reapplied after swimming or if you sweat too much. In this way you will always be protected!
Coola Classic Face SP50 White Tea – 39 CHF (50ml)
Coola Sport Spray Face SPF 50 Guava-Mango 42 CHF (236 ml)/ 30 CHF (100 ml)
Coola Body Spray Face SPF 30 Tropical Coconut/Fresh Cucumber 42 CHF (236 ml)
I solari Coola Suncare sono disponibili sul sito beautykosm.ch !
You can buy all Coola Suncare on the beautykosm.ch!