Molto spesso capita che il budget a disposizione per fare i regali di Natale non sia elevato e, proprio per questo, è necessario trovare qualcosa di gradevole senza dover spendere chissà quale cifra, ma soprattutto senza ridursi nell'acquistare la prima "schifezza" trovata in qualche negozio di pessimo gusto. Oggi, quindi, vi darò qualche delle idee per i regali del Natale 2019, sotto ai 30 franchi, così da far felici le vostre amiche o parenti.
Very often it happens that the budget available for Christmas presents is not high and, for this reason, it is necessary to find some cheap gifts without buying the first "crap" that yuu can find in some bad taste shops. Today I will give you some ideas for Christmas gifts 2019, under the 30 CHF, for your friends or relatives.
Cosa regalare per Natale 2019?
Per la serie dei mini regali di Natale, a buon costo, ho deciso di andare in giro per alcuni dei negozi che trovo dalle mie parti: il primo dono che vi propongono è una morbidissima banda per capelli a 24.90 CHF. Questa bande in cashmere sono confezionate all'interno di una scatolina e si presentano con un piccolo gioiello circolare posto nel centro. Trovo che, oltre ad essere un regalo di Natale utile, sia anche molto carino da abbinare ad un look quando desideriamo essere carine ma al caldo, senza però indossare una cuffia di lana. Quella che vi propongono io è disponibile nei colori grigio chiaro, rosa, bordeaux e nero, la trovate da C&A al Serfontana!
For the series of mini Christmas gifts, at a good price, I decided to go around some of the shops that I find in my part: the first gift they suggest you is a very soft hair band at 24.90 CHF. These cashmere bands are packed in a small box and come with a small circular jewel placed in the middle of it. I find that, in addition to being a useful Christmas gift, it is also very nice to combine with a look when we want to be nice but warm, without wearing a wool cap. They are available in light gray, pink, burgundy and black, found by C&A at Serfontana!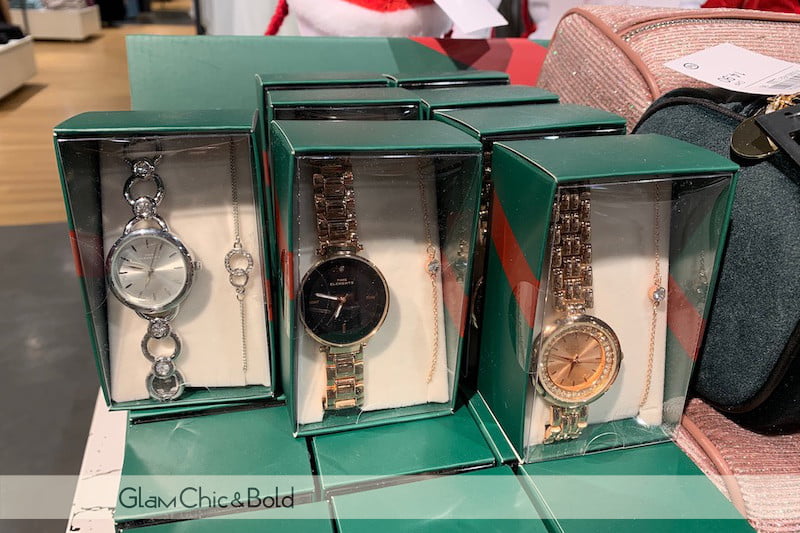 Sempre al C&A ho visto un elegante set con orologio e bracciale a soli 19.90 CHF: sono disponibili tre varianti colori, argento con quadrante argento, oro con quadrante nero e oro con quadrante oro rosa.
Also at C&A I saw an elegant set with a watch and bracelet for just 19.90 CHF: three colors are available, silver with silver dial, gold with black and gold dial with pink gold dial.
Rimanendo sempre lontano dai regali di Natale costosi, vi suggerisco anche di dare un'occhiata ai mini kit di Sephora: ad esempio, questo piccolo set di Mario Badescu vi permette di spendere solo e trovare due mini prodotti, un balsamo labbra ed uno spray faccia all'aloe. Costa solo 17.50 CHF!
Next idea is about Sephora kit: there are a lot of little set with mini size such as this by Mario Badescu. This set contains lip balm and face spray with aloe vera. It costs 17.50 CHF! 
Infine, gli ultimi regalini che vi suggerisco li potrete trovare da Manor: si tratta di un piccolo set da bagno di Kneipp che costa solo 6.90 CHF! Se invece si amano i trucchi, vi sono questi due set di Real Technique con un pennello e delle mini spugnette di Real Tecniques!
Finally, I suggest you also some cute gifts that I saw some days ago at Manor: it is a bath set by Kneipp for 6.90 CHF. If you like make up I suggest you also these brush and sponges set by Real Techniques!