La famosa tattoo artist e musicista americana Kat Von D sta per arrivare direttamente dall'America in Svizzera: infatti, il brand sarà disponibile in esclusiva presso la boutique Sephora da Manor in Ginevra. Come saprete già, la collezione di Kat Von D è davvero particolare: non mancano mascara, primer, pennelli, fondotinta e quant'altro ancora che potrete utilizzare per realizzare il vostro make up.
Tra i best seller di Kat Von D che saranno proposti in negozio troviamo il tattoo liner, un eyeliner con punta sottile e di colore nero che consente di applicare con estrema precisione una linea waterproof ad alta pigmentazione, la palette per il contouring shade + light e l'everlasting liquid lipstick.
Il marchio sarà proposto ufficialmente in tutta la Svizzera dal 3 ottobre, ma Ginevra e Zurigo in Bahnhofstrasse avranno l'onore di averli prima: per l'appunto il 12 settembre 2017 ed il 21 settembre 2017. Ma quali saranno gli altri prodotti disponibili da Sephora?
The famous American tattoo artist and musician Kat Von D is coming from America to Switzerland: in fact, the brand will be available exclusively at the Sephora in Manor boutique in Geneva. As you already know, the Kat Von D collection is really special: there are mascara, primer, brush, foundation and a lots of make up products!
Among the Kat Von D's best sellers in the store, we find the tattoo liner, a thin eyeliner that allows you to apply a high pigmentation waterproof line, the shade + light shade palette and the everlasting liquid lipstick.
The brand will be officially launched throughout Switzerland from 3th October 2017, but Geneva and Zurich in Bahnhofstrasse will have the honor of having them at first: for the 12th September 2017 and 21st September 2017. What other products will be available at Sephora?
Everlasting Liquid Lipstick (23.90 CHF)
Ben 41 colori per le labbra con una formula cremosa con un finish opaco, che include vitamina E. La tinta best seller è Lolita, ma ce ne sono tanti altri meravigliosi!
There are 41 colors for the lips with a creamy formula with a matte finish, which includes vitamin E. The best seller tint is Lolita, but there are so many other wonderful liquid lipsticks!
Studded Kiss Lipstick (23.90 CHF)
La collezione degli Studden Kiss Lipstick si compone di rossetti opachi, satinati e glitterati.La formula intensamente pigmentata permette di ottenere un colore ricco sulle labbra con un'unica passata. I colori a disposizione sono 22.
The Studden Kiss Lipstick collection composed with opaque, satin and glittered lipsticks. The intensely pigmented formula allows you to obtain a rich color on the lips with one applying. There are available in 22 nuance.
Shade + Light Contour Palette (54 CHF)
Ispirata alla tavolozza dei colori degli artisti, questa palette contiene ben 6 nuance opache e illuminanti che permettono di scolpire ed illuminare il volto.
Inspired by the color palette of artists, this palette contains 6 opaque and illuminating shades that allow you to sculpt and illuminate the face.
Shade + Light Eye Contour palette (54 CHF)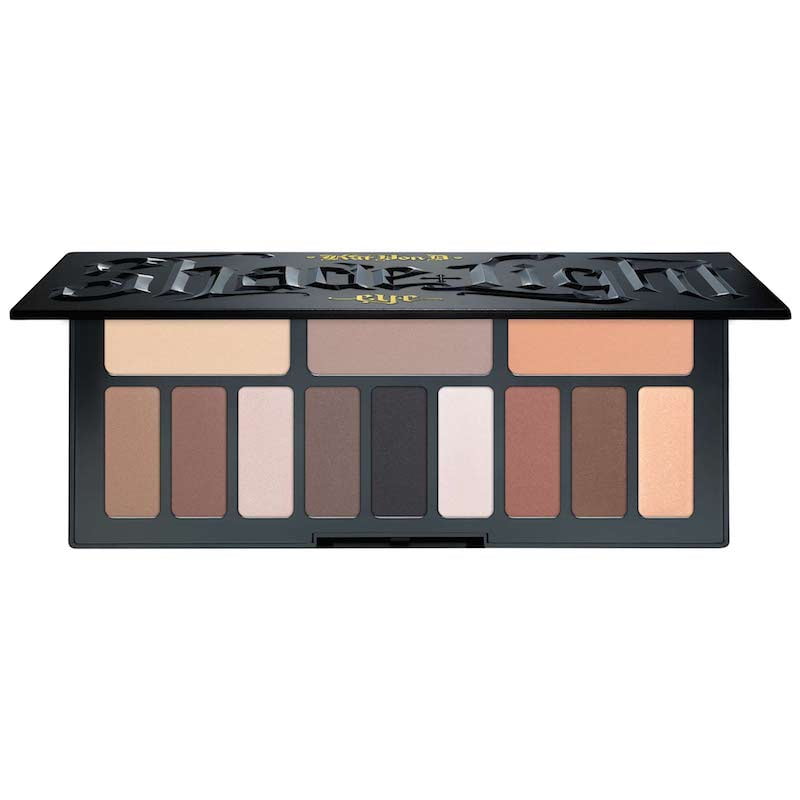 All'interno di questa palette sono stati selezionati toni neutri, caldi e freddi  e grazie ad una nota illustrata posta all'interno potrete imparare a definire meglio il vostro volto.
This palette composed by neutral, warm and cold tones and thanks to an illustrated note you can learn how to better define your face.
Shade + Light Contour Brush (34.90 CHF)
Shade + Light Eye Contour Brush (30 CHF)
Tattoo Liner (23.90 CHF)
Kat Von D ci propone ben 2 tinte (nero e marrone) del suo famoso Tattoo Liner, un prodotto dalla punta estremamente flessibile che consente di ottenere una linea precisa. L'applicatore è composto da 325 setole!
Kat Von D offers us two colors (black and brown) of her famous Tattoo Liner, an extremely flexible product that allows you to get a precise line. The applicator is made up with 325 bristles!
Ink Liner (23.90 CHF)
Questo eyeliner liquido ha una ricca formula waterproof e consente di avere una linea precisa grazie alla punta in feltro di questo prodotto.
This liquid eyeliner has a rich waterproof formula and allows you to have a precise line thanks to the felt tip of this product.
Metal Crush Eyeshadow (25.50 CHF)
Questi ombretti intensamente pigmentati ed ultra-coprenti consentono di avere uno splendido look. Le nuance metalliche disponibili sono ben 6.
These intensely pigmented and ultra-covering eye shadows allow you to have a beautiful look. The available metal shades are 6.
Lock-It Hydrating Primer (38.50 CHF)
Questo primer, realizzato con una base d'acqua, è in grado di minimizzare i pori. Tra gli ingredienti utilizzati vi sono aloe vera, jojoba e burro di karité che nutrono e idratano la pelle, donandogli un aspetto impeccabile.
This primer, made with a water base, is able to minimize pores. Among the ingredients used are aloe vera, jojoba and shea butter that nourish and moisturize the skin, giving it an impeccable appearance.
Lock-it Foundation (41.50 CHF)
Sono disponibili ben 26 nuance di fondotinta in grado di uniformare l'incarnato grazie alla base pigmentata che consente di coprire perfettamente le imperfezioni. Potrete applicare il fondotinta con un pennello o una spugna.
There are 26 foundation shades available to match the incarnate thanks to the pigmented base to perfectly cover imperfections. You can apply the foundation with a brush or sponge.
Lock-it Correcting Eyeshadow Primer (27.50 CHF)
Sono disponibili quattro nuance di questo stick di primer che preparano la palpebra dell'occhio all'ombretto: Fair, Light, Medium, Tan e Deep.
There are four shades of this primer stick that you can use on the eyebrows for the eyeshadow. These are the nuance that you can buy: Fair, Light, Medium, Tan and Deep.
Lock-it Concealer Creme (31.50 CHF)
Sono disponibili ben 21 tinte estremamente pigmentate, incluso anche il colore bianco "White out" che consentono di correggere alcuni punti della pelle.
There are 21 highly pigmented colors available, including th white color "White Out", which help to correct some spots on the skin.
Lock-It Edge Concealer Brush #40 (28.50 CHF)
Questo pennello è pensato appositamente per l'applicazione dei correttori in crema Lock-It.
This brush is specially designed for applying Lock-It creams.
Lock-It Powder Foundation (41.50 CHF)
È disponibile anche il fondotinta in polvere in ben 6 tonalità colore che vi permetteranno di ottenere una tinta uniforme e la copertura delle imperfezioni. I colori sono: Light 46, Light 48, Light 49, Medium 53, Medium 52 e Medium 54.
The powder foundry is also available in 6 color shades that will allow you to get a uniform tint and cover imperfections. The colors are: Light 46, Light 48, Light 49, Medium 53, Medium 52 and Medium 54.
Acquista i prodotti da qui /Buy your products here:
Manor-SephoraCH