Come saprete bene, in occasione dei 20 anni, Kiko Milano ha deciso di festeggiare con sette capsule collection: ora, siamo giunti alla quarta capsule collection dal nome Mini Divas. Questa collezione è stata realizzata in collaborazione con Benedetta Bruzziches, talento emergente e titolare del marchio omonimo.
La nuova collezione si compone di diversi elementi del make up che richiamano lo stile delle star anni '50, in una veste più moderna.  Lo stile è decisamente elegante, visto il color oro del packaging, e troviamo anche degli accessori utili come una pochette trasparente ed un confanetto con forbicine, lima e pinzette.
As you know, on the occasion of  20th anniversary, Kiko Milano has decided to celebrate with seven capsule collections: now, I'm going to show you the fourth capsule collection called Mini Divas. This collection was made in collaboration with Benedetta Bruzziches, emerging talent.
The new collection consists of several elements of the make up that recall the style of the 1950s, in a modern style. The style is remarkably elegant, with the gold color of the packaging and we also find useful accessories such as a transparent clasp and a box with scissors, file and tweezers.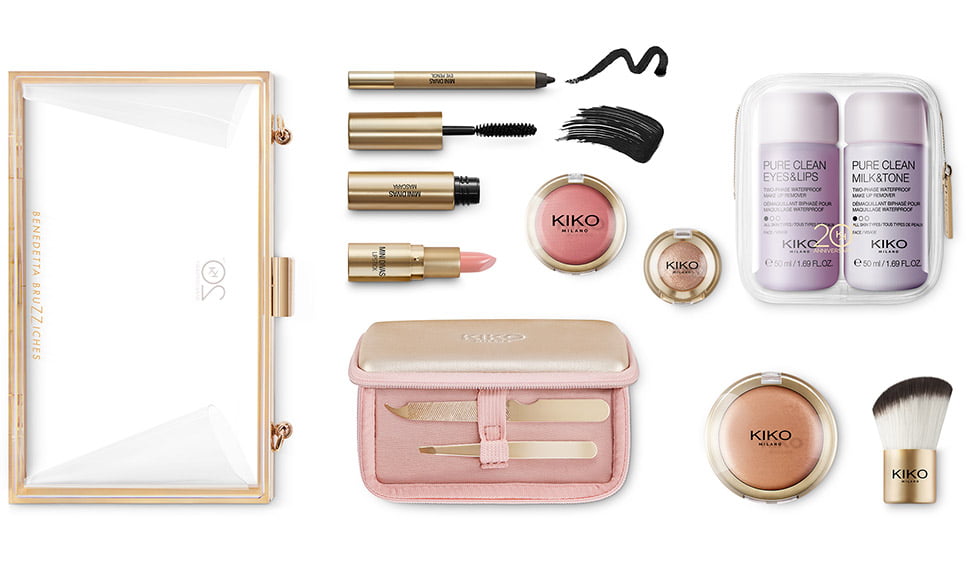 Qui di seguito, vi elenco tutti i prodotti disponibili con la capsule collection Mini Divas:
Here you can see all new products by Kiko Milano for Mini Divas capsule collection:
Baked Bronzer: 02 Essential Biscuit – 11.90 CHF
Baked Blush: 01 Ourstanding Cherry Flower – 10.90 CHF
Baked Eyeshadow: 01Balanced Champagne, 02 Radiant Copper, 03 Ritual Golden Brown e 04 Gleaming Gold – 6.90 CHF
Mascara & Eye Pencil – 14.90 CHF
Lipstick: 01 Practical Rose, 02 Wieldy Geranium e 03 Handy Orchid – 6.90 CHF
Essentials Kit – 24.90 CHF
Make-up Clutch – 29.90 CHF
Kabuki Brush – 9.90 CHF
Pure Clean Kit – 12.90 CHF
Da amante dei blush non potevo fare a meno di amare follemente questo blush: il colore è un rosa cherry chiaro e mi piace l'effetto sulla pelle. Un'altra cosa che apprezzo molto di questa collezione è il packaging che trovo assolutamente elegante e prezioso con le piccole scatoline rosa ed oro. Ora aspetto di conoscere qual é il tuo prodotto preferito. Lascia un commento!
My favorite products is the blush, a beautiful pink cherry that if you try, love it! I love so much also the packaging of products: pink and gold are perfect! Now I would like to know your favorite product of the new Mini Divas collection! Leave me a comment 😉
Se volete scoprire le altre collezioni passate che ho provato, le trovate qua/Here you can see the previous capsule collection that I tried:
Less is Better – Kiko Milano
Tropical Heat Kiko Milano