Avete in mente quando siete in un prato pieno di rose e vi viene voglia di raccoglierne un paio per la vostra casa? Ecco, la nuova collezione British Rose The Body Shop è proprio tutto questo: la sua profumazione vi fa immergere direttamente in uno splendido prato dove vi sono tante rose.
Do you know the feealing  when you are in a meadow of roses and want to pick some flowers? The new collection British Rose by The Body Shop project you in a beautiful rose's garden. I love the scent of this new collection by The Body Shop!
L'intera collezione si compone di diversi prodotti/These are all products that you can find with British Rose collection:
Exfolianting gel body scrub (250 ml) 24.90 CHF
Instant Glow Body Essence (250 ml) 19.90 CHF
Instant Glow Body Butter (200 ml) 24.90 CHF
Shower Gel (60 ml) 9.90 CHF
Petal-Soft Bath Foam (250 ml) 24.90 CHF
Petal-Soft Hand Cream (100/30 ml) 19.90/9.90 CHF
Eau de Toilette British Rose The Body Shop (100 ml) 22.90 CHF
Exfolianting soap (100 ml) 6.90 CHF
British Rose Eye & Cheek Palette 39.90 CHF
British Rose Vernis à onglese (6.8 ml) 9.90 CHF
Lip & Cheek Stain (7.2 ml) 22.90 CHF
Di questa splendida collezione ho potuto testare personalmente tre prodotti, lo scrub corpo, Instant Glow Body Essence ed Instant Glow Body Butter. Quello che in assoluto mi ha colpito di più di questa linea è sicuramente la profumazione: intensa e delicata, ma anche naturale, proprio come se si avesse sotto il naso una rosa.
Lo scrub é gelatinoso con una base di petali di rosa e riesce comunque a pulire a fondo la pelle grazie ai suoi grani che agiscono delicatamente, lasciando la pelle più soffice e fresca. Io utilizzo questo prodotto almeno una volta a settimana, prima della doccia vera e propria, dopo aver bagnato la pelle nei punti in cui si desidera esfoliare. Questo scrub, per la sua consistenza, mi ricorda quello della collezione Fuji Green Tea di The Body Shop!
About this wonderful collection I could test three products, body scrubs, Instant Glow Body Essence and Instant Glow Body Butter. This fragrance is intense and delicate, but also natural, just as if you had under your nose a rose.
The scrub is gelatinous with a base of rose petals and still managed to thoroughly clean the skin thanks to its grains that act gently, leaving the skin soft and fresh. I use this product at least once a week, before the actual shower and own, after moistening the skin at the points where you want to exfoliate. This scrubs, its texture, reminds me of Fuji Green Tea Collection by The Body Shop!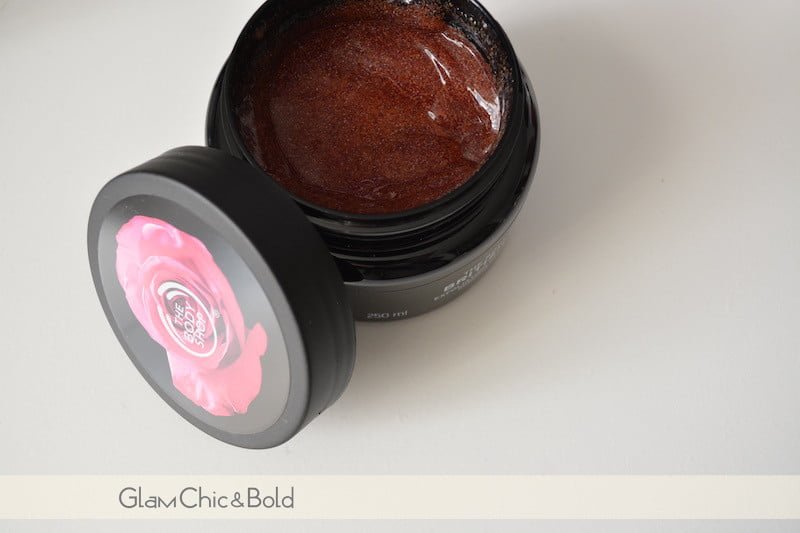 Gli altri due prodotti che ho provato sono l'Instant Glow Body Essence ed Instant Glow Body Butter: tirando le somme posso dirvi che si tratta di due prodotti assai simili, in grado di garantire fino a 24 ore di idratazione, pelle più morbida e radiosa. L'unica differenza sta nella loro texture: infatti, posso dirvi sicuramente che il primo è molto leggero, quasi impalpabile non appena la mettete sulla pelle e molto fresca, mentre l'altra risulta senz'altro più corposo con una consistenza sicuramente diversa.
Le profumazioni di entrambi i prodotti British Rose di The Body Shop sono splendide, proprio come per lo scrub, ed abbracciano il corpo lasciandolo profumato come un vero e proprio bocciolo di rosa. Credo che questa collezione sia, sino ad ora, una delle migliori e più belle che ho saputo apprezzare. E voi avete avuto già l'opportunità di testare questa splendida proposta?
The other two products that I tried are the Instant Glow Body Essence and Instant Glow Body Butter:  I can tell you that these are two very similar products, can guarantee up to 24 hours of hydration, softer and more radiant skin. The only difference lies in their texture: in fact, I can tell you definitely that the former is very light, almost impalpable as soon as you put on your skin and very fresh skin, while the other is certainly more full-bodied with a definitely different texture.
The fragrances of both products of British Rose by The Body Shop are wonderful as well for the scrub, and they hug the body, leaving smelling like a real rose. I think this collection is one of the best and most beautiful collection that I have been able to appreciate. And you, do have already the opportunity to test this beautiful collection by The Body Shop?