L'azienda di cui vi parlo oggi è tedesca e si chiama BIOMED Organic Skin Care Medical: quest'azienda é riconosciuta per essere una vera e propria leader dei prodotti medici/naturali da utilizzarsi per la cura della pelle. Si tratta di prodotti che, peraltro, sono al 98.9% naturali, ma anche vegani e, peraltro, non contengono neppure parabeni, profumi sintetici ed oli essenziali. Da non sottovalutare, poi, che non sono testati sugli animali!
Hello girls, today I'm going to show you some new products that I received from German brand: I'm talking about BIOMED Organic Skin Care Medical that realized natural products at 98.9% that help to take care of your skin. All products are free parabens, synthetic fragrances and essential oils; moreover, these products are vegan!
Il primo prodotto di cui vi parlo è il Vein Vanish ovvero una crema studiata per ridurre i segni delle vene. Questo prodotto è stato realizzato con il 97% da ingredienti naturali e, grazie alla formulazione con estratto di microalga verde, è possibile curare le vene ed i capillari visibili. Il prodotto in questione, dunque, è stato proprio realizzato per inibire la comparsa e la crescita dell'endotelio vascolare che, per l'appunto, dà origine a brutti capillari rossi che compaiono sulle gambe. Io sto utilizzando questa crema da un po' di tempo (15 giorni circa), in alcuni punti precisi delle mie gambe e posso dirvi che ha una texture abbastanza grassa, un lieve profumo, e si assorbe abbastanza velocemente, lasciando la pelle soffice al tatto. Al momento non vedo grandi miglioramenti, anche perché non ho tanti capillari visibili, anche se credo di avere una predisposizione ai capillari deboli.
The first product that I'm going to show you is Vein Vanish, a cream realized to reduce the signs of veins. This product was made at 97% with natural ingredients and, thanks to the formulation with green microalga extract, it is possible to cure visible veins and capillaries. The product was designed to inhibit the onset and growth of vascular endothelium, which gives birth to ugly red capillaries that appear on the legs. I've been using this cream for about 15 days in some area in my legs and I can tell you it has a thick texture, a slight scent, and absorbs it fast enough, leaving the skin soft to the touch . At the moment I do not see any major improvements, even because I do not have many visible capillaries, although I think I have a predisposition to weak capillaries.
L'altro prodotto che ho testato è il Rosa Cure, un siero anti-rosacea che ha la funzione di ridurre il rossore tipico della rosacea, un problema cutaneo che si manifesta per l'appunto con un rossore che colpisce la pelle del volto. In particolare, io ho questo problema sulle guance e si nota soprattutto durante la stagione invernale. Ad ogni modo, il siero in questione è trasparente e si può applicare con l'aiuto di una provetta prelevatrice. Anche in questo caso ho iniziato a testarlo, ma sono molto curiosa di vedere come funzionerà durante questo inverno. Ne basta veramente molto poco per un'applicazione, quindi la confezione da 30 ml durerà abbastanza!
The other product that I have tested is Rosa Cure, an anti-rosacea serum that has the function of reducing the typical rosacea redness, a skin problem that manifests with a red color on skin of the face. In particular, I have this problem on cheeks and is noticed especially during the winter season. However, the serum is transparent and can be applied with the aid of a test tube. Again in this case I started testing it, but I'm very curious to see how it will work this winter. You can use a little application on your skin, so the bottle of 30ml will last long enough!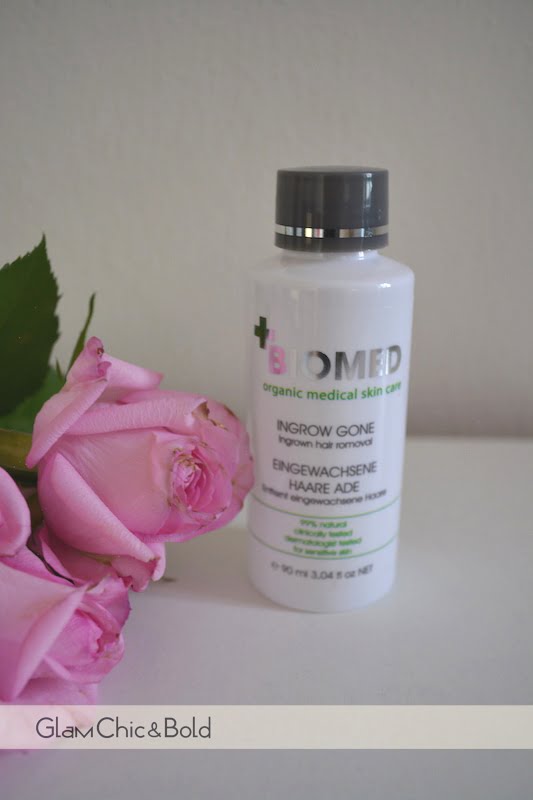 Gli ultimi due prodotti BIOMED di cui vi parlo oggi sono il Body Firmer ed Ingrow Gone: il primo prodotto è stato realizzato per idratare la pelle e, allo stesso tempo, per modellare la propria silhouette, mentre l'altro è perfetto per tutte quelle persone che sono abituate ad usare il rasoio. Lo consiglio sicuramente anche agli uomini, visto che anche questi possono soffrire di peli incarniti; grazie a questo prodotto è possibile prevenire il problema. Vi ricordo, ancora una volta, che entrambi i prodotti hanno una componente elevata di ingredienti naturali!
The last two BIOMED products I'm talking about today are the Body Firmer and Ingrow Gone: the first product has been realized to moisturize the skin while, at the same time, modeling its own silhouette. The other product by BIOMED is perfect for all those people who used the razor. I would definitely recommend it to men as well as these may suffer of ingrown hairs; thanks to this product you can prevent the problem! I remind you once again that both products have a high component of natural ingredients!
Siete curiose di testare questi prodotti anche voi? Ho un regalo: potrete acquistare i vostri prodotti (ordini superiori ai 29.99 €) usufruendo dello sconto del 30% con il codice"glamchicbold30%" . Sarà valido fino al 14.11.2017!
If you want to try some of these products or others, I suggest you to use my coupon for discount of 30% ( for orders above 29.99 €): "glamchicbold30% until 14.11.2017!
Sito ufficiale BIOMED
Acquista dalla Farmacia Online
Instagram: @biomedorganics
Facebook Biomedorganics Italia