Nonostante abbia visto queste novità già in Luglio, sono riuscita a resistere alla voglia di mostrarvele prima. Dal 27 agosto, difatti, sono in vendita le novità dell'autunno 2015 firmate Pandora. Oggi vi mostrerò da vicino la nuova collezione Pandora Moments, ma successivamente vi parlerò pure della linea Essence!
In the last month I saw the new Fall collection by Pandora, but now it's the right time to show you what you can already find in the best boutique of jewelry. Let's go to discover the new Pandora Moments collection, but in the next days I'm going to show you also Essence collection! 
Iniziamo da un tema che mi ha assai affascinata: la Fenice!  La nuova collezione Piume Reali di Pandora interpreta il trend delle passerelle, con uno stile quasi fiabesco. Il pendente della collana richiama per l'appunto le ali dell'uccello di fuoco, così come gli orecchini che si presentano con una leggera incurvatura per maggiore confort sull'orecchio. L'anello, che riporta anch'esso le ali della Fenice, sono rifinite con 132 pietre di zirconica cubica incastonate a mano.
Let's start with the theme that fascinated me: the Phoenix! The new collection of Piume Reali by Pandora plays the catwalk trends, with a style fairytale. Pendant necklace recalls precisely the wings of the Firebird, as well as the earrings have a slight curve for the comfortable ear. The ring, which also shows the wings of the Phoenix, are finished with 132 stones of cubic zirconia hand set.
Anello in argento Sterling 925/Ring in Sterling Silver 925: 79 €
Orecchini in argento 925/Silver earrings 925: 55 €
Collana con pendente in argento 925/Necklace with silver 925: 99 €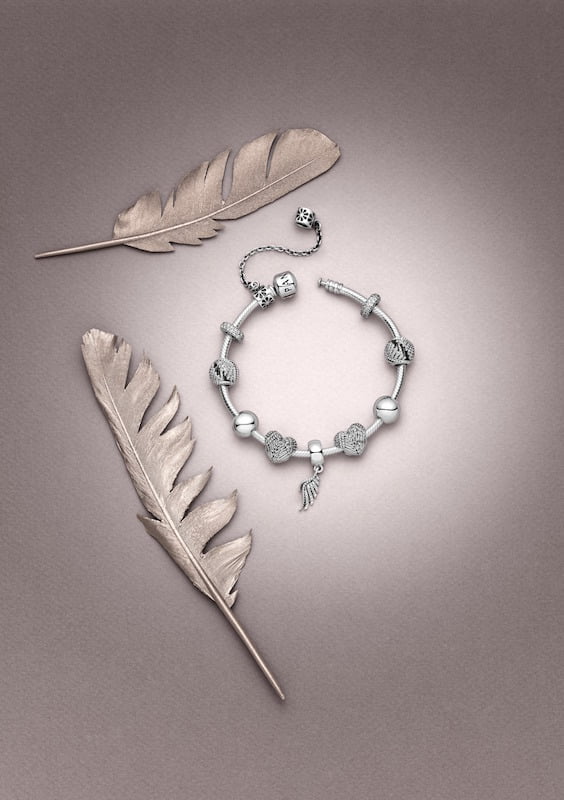 Tra le novità di questa stagione troviamo anche una nuova chiusura per i bracciale Moments: questa chiusura é luccicante ed a scomparsa in pavé. Il braccialetto Moment, leggero e flessibile, è anch'esso in argento Sterling 925 ed è arricchito con luminose pietre di zirconia cubica che sono in grado di riflettere la luce, catturando lo sguardo di chiunque.
Si può indossare da solo oppure combinato insieme ai meravigliosi charm di Pandora. Il costo di questo nuovo bracciale Moments in argento Sterling 925 è di 79 €.
This season there are also a new closure for bracelet Moments: this closure is shiny and retractable paved. Bracelet Moment, lightweight and flexible, it is also made of sterling silver 925 and is enriched with bright stones of cubic zirconia that are able to reflect light, capturing the attention of anyone.
You can use it alone or combined with the wonderful charm by Pandora. The cost of this new bracelet Moments in Sterling Silver 925 is 79 €.
Terminiamo dando uno sguardo ad una nuova collezione Pandora, dal gusto particolarmente vintage. Questi gioielli dal gusto femminile ed eleganti sono rifiniti a mano e sono un vero must-have per tutte le donne che sono alla ricerca di un gioiello brillante, ma allo stesso tempo elegante.
We conclude with another new Pandora collection, taste particularly vintage. These jewels taste feminine and elegant are finished by hand and are a must-have for all women who are looking for a shining jewel and elegant.
Gli anelli disponibili sono in due versioni: infatti, troviamo una proposta con pietra di zirconia cubica con taglio vintage, incastonata a griffe in argento Sterling 925, circondata da pietre di zirconia più piccole incolore, che vanno ad impreziosire il gambo dell'anello. L'altro modello, invece, si presenta con un pietra di zirconia cubica con taglio danubio, incastonata a griffe in argento Sterling 925, anch'essa circondata da piccole pietre di zirconia.
Gli orecchini, nel modello pendente ed a lobo, insieme ai pendenti per collana hanno le pietre tagliate in modo uguale a quelle dell'anello. Il nuovo bracciale Cuori Pandora si presenta con un inserto centrale con pietre di zirconia cubica incolore incastonate a granette e dettaglio di piccoli cuori laterali. Nonostante la semplicità, anche il bracciale è molto semplice ed è ideale da indossare da solo o insieme ad altri bracciali.
The rings are available in two versions: in fact, there is a proposal with cubic zirconia stone-cut vintage, jaw set in 925 Sterling silver, surrounded by stones of zirconia smaller colorless, going to embellish the shank of the ring. The other model, however, shows a stone-cut cubic zirconia Danube, nestled claw Sterling Silver 925, also surrounded by small stones of zirconia.
Earrings, pendant in the model and the lobe, along with the pendants for necklace have cut stones in the same manner as those of the ring. The new bracelet Hearts Pandora shows a central insert with stones of cubic zirconia embedded in colorless Granette and detail of small hearts side. Despite the simplicity, even the bracelet is very simple and is ideal to wear alone or together with other bracelets.
Anelli in argento Sterling 925/Ring in Sterling Silver 925: 69 €
Orecchini in argento 925/Silver earrings 925: 69 €
Bracciale rigido in argento 925/Rigid bracialet with silver 925: 99 €