Hey girls, Summer sale 2013 is coming but I still have not bought anything 🙁 : the reasons are different for example the size or the dress is nice but not sit well or there aren't shops where I can purchase something. So I'm going to make shopping in Milan, in the next weeks!
I'm very sad beacuse the first thing that I wanted to purchase was a beautiful genuine leather giaket by Mango: at the Coin in Como there was only large size and so I didn't purchase 🙁 Now I think that I'm going to Milan in the next weeks to find it! The cost of the jacket is 89.99 € (10% discount on the original price).
Let's move on to the next purchase that is a dress signed by Desigual that I found in Coin in Como, i put on, but with great disappointment it's orrible on me 🙁 The price was really good as it passed from 99 € 49.50 €, but not even this will be my purchase!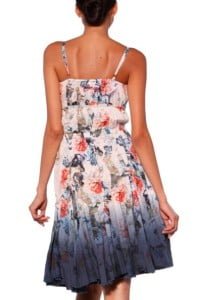 Finally, the last purchase with the sales 2013 that caught my attention is a bag: it's the bag by JLo that I found only exposed, but stained. I asked the clerk and she told me that the manager was not there and that I should go over. I looking forward to returning again!
And you, still wainting to purchase something or you have buy something?