Anche quest'anno, il marchio Bottega Verde ci mette a disposizione una marea di idee regalo per Natale, che riescono a soddisfare le necessità di tutti, anche per quanto concerne la spesa. Le linee più conosciute, quella alla vaniglia nera e pepe rosa, sono presentate al pubblico con nuove confezioni proposte proprio per Natale. Anche l'Argan, Mandorle e Karité sono vestiti a festa con gnomi del bosco che sono riportati sulle confezioni; ci sono anche le linea dell'olio, avena ed uva rossa della Tenuta Massaini.
Also this year, the Bottega Verde brand offers us a wealth of gift ideas for Christmas, which are able to satisfy everyone's needs, even with regards to spending. The most popular lines, the black vanilla and pink pepper, are presented to the public with new packages proposed just for Christmas. Argan, Almonds and Shea are also dressed up with forest gnomes that are shown on the packages; there are also the Tenuta Massaini oil, oat and red grape line.
Limited Edition di Bottega Verde per Natale 2019
Per questo Natale 2019 le edizioni limitate proposte dal marchio sono ben tre: "Emozione dei Sogni", "Stupore della Neve" e "Magia delle Stelle" per un periodo festivo ricco di emozioni e profumi.
 For this Christmas 2019 the limited editions proposed by the brand are three: "Emozione dei Sogni", "Stupore della Neve" and "Magia delle Stelle" for a festive period full of emotions and fragrances.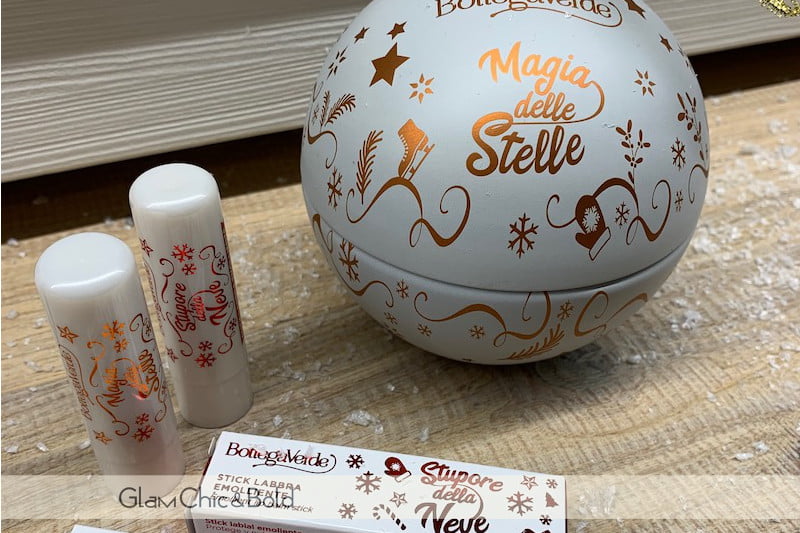 Come potete vedere dalle immagini che vi condivido, le tre linee si differenziano tra di loro per i profumi:
Emozione dei Sogni, note d'arancia e vaniglia;
Stupore della Neve, note di vischio e cannella;
Magia delle stelle, note di bergamotto e patchouli;
Per le tre linee, inoltre, sono state pensati diversi prodotti dalla classica crema per mani sino alla candela o diffusori per ambiente.
As you can see from the pics that I share with you, the three lines with their fragrances:
Emozione dei Sogni, orange and vanilla notes;

Stupore della Neve, mistletoe and cinnamon notes;

Magia delle stelle, bergamot and patchouli notes;
For these three beautiful lines there are a lot of different products for Christmas: in fact, you can try a simple skincare product, such as hand cream, but also a candle and room diffusers. 
Il regalo firmato Bottega Verde per lui/
Gift for him by Bottega Verde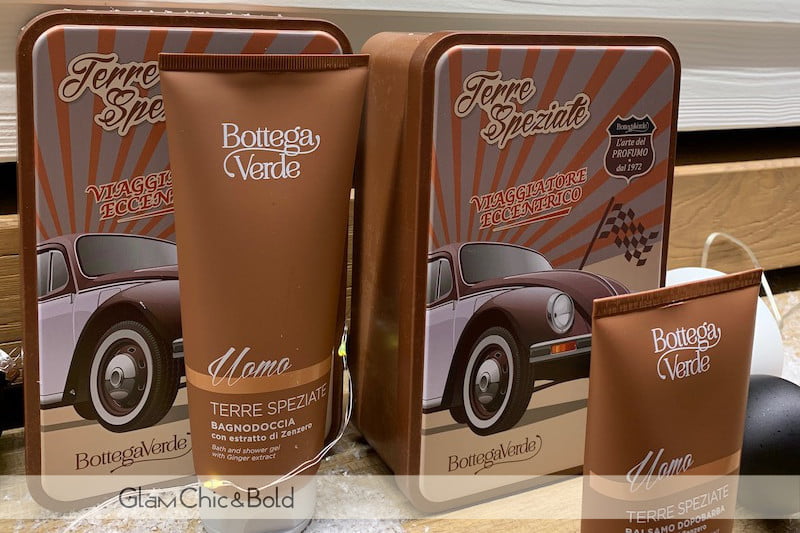 Passando all'uomo, anche quest'anno il marchio italiano ci mette a disposizione diversi cofanetti, tra cui la linea novità di questo Natale 2019 cioè Terre Speziate! Questa profumazione maschile racchiude note speziate come la resina vegetale balsamica dell'elemi, il limone candito, lo zenzero, la vaniglia, cannella ed un fondo di legno e patchouli.
Turning to men's gift for Christmas and for this year too the Italian brand provides us with several boxes, including the novelty line that is "Terre Speziate"! This masculine fragrance contains spicy notes such as the balsamic vegetable resin of the elemi, the candied lemon, ginger, vanilla, cinnamon and a base of wood and patchouli.
La fragranza natalizia di Bottega Verde/
Eau de toilette for Christmas by Bottega Verde
Naturalmente, non poteva mancare neppure il profumo del Natale 2019 di Bottega Verde: si tratta dell'eau de toilette Emozioni Floreali, un profumo romantico e delicato, che si caratterizza per le note intense invernali come cedro, legno e spezie varie.
Note in testa: miele bianco, bergamotto, mandarino verde;
Note nel cuore: Eliotropio, caprifoglio e fresia;
Note di fondo: patchouli e legno di sandalo;
Of course, we could not miss the scent of Bottega Verde's 2019 Christmas: it is the eau de toilette Floral Emotions, a romantic and delicate perfume, which is characterized by intense winter notes like cedar, wood and various spices.
Top notes: white honey, bergamot, green mandarin; 

Heart: Heliotrope, honeysuckle and freesia;

Base notes: patchouli and sandalwood;
Collezione make-up di Bottega Verde/
Christmas Make-up collection by Bottega Verde
Che cosa dire poi del make-up? Bottega Verde ci mette a disposizione per questo periodo dell'anno tante soluzioni brillanti, per regalare o regalarsi dei prodotti glamour. Ci sono tante idee regalo con smalti, mascara, ma anche palette per trasformare il nostro Natale in un momento scintillante.
If you are a lover of make-up, please take a look of the Christmas collection by Bottega Verde: there are a lot of new products with a precious packaging to shine during this next Chrstimas. You can buy for you or your friend nail polishes, palette, mascara etc.
Calendario dell'avvento di Bottega Verde/
Advent Calendar by Bottega Verde
Infine, non dimentichiamoci neppure del calendario dell'avvento di Bottega Verde per il Natale 2019: ben 24 caselline da aprire una ogni giorno per scoprire una sorpresa profumata che va dai prodotti da bagno a quelli per il make-up.
Finally, let's don't forget the advent calendar by Bottega Verde for Christmas 2019:  24 boxes with a  ranges from bath products to make-up products to discover during December, everyday!