Oggi voglio parlarvi delle ultime novità che potrete acquistare da Migros per la cura della pelle del viso e delle mani, ma anche per l'igiene della bocca!
Today I'm going to show you the last new products that you can buy at Migros: I'm going to show you products for the skin care, hand cream and a new toothpaste your the mouth hygiene.
I am Natural Cosmetics Clear
I am Natural Cosmetics ha lanciato una nuova serie di prodotti con ingredienti naturali e biologici che sono perfetti per chi ha pelle impura: si tratta di una crema detergente e di un fluido idratante che vi aiuteranno a mantenere maggiormente pulita la pelle e sana, senza aggredirla con sostanze chimiche. Entrambi i prodotti sono stati certificati con il marchio NaTrue. Come potete immaginare, entrambi i prodotti sono stati arricchiti con ingredienti particolare: difatti, troviamo argilla con minerali, zinco ed acidi del mirtillo rosso che consentono di far ritrovare il giusto equilibrio alla pelle. Potrete acquistare la crema detergente (150 ml) al costo di 6.50 CHF, mentre il fluido idratante (50 ml) è disponibili al costo di 10.80 CHF.
I am Natural Cosmetics launched a new series of products with natural and organic ingredients that are perfect for those who have oily skin: it is a cleansing cream and a moisturizing fluid that will help you keep your skin cleaner and healthier, without attacking it with chemicals ingredients. Both products have been certified under the NaTrue brand! As you can see, both products have been enriched with particular ingredients: in fact, we find clay with minerals, zinc and cranberry acids that allow you to find the right balance for your skin. You can buy the cleansing cream (150 ml) for CHF 6.50, while the moisturizing fluid (50 ml) is available for CHF 10.80.
Multimasking all'argilla Zoé Cleasing
Un'altra delle novità che trovate in negozio da Migros sono queste due maschere all'argilla Zoé Cleasing: entrambe le proposte sono ideali per coloro che vogliono pulire a fondo la pelle. Difatti, la maschera dal tubetto rosa migliora la grana della pelle, rendendo meno visibili i pori, mentre l'altra maschera ovvero quella con il tubetto verde è una maschera purificante. Entrambe lasciano una pelle morbida e pulita! Per utilizzarla dovrete farla stare 10-15 minuti in posa su viso pulito e poi la potrete rimuovere con acqua tiepida eseguendo dei movimenti circolari. L'utilizzo di questo prodotto è consigliato per 1-2 volte a settimana e, se lo desiderate, potrete utilizzarle anche in modo differente creando per l'appunto il cosiddetto multimasking. Entrambe sono disponibile al costo di 4.90 CHF!
Another novelties that you'll find at Migros are these two Zoé Cleasing clay masks: both masks are ideal for those who want to clean their skin. In fact, the mask with the pink tube improves the texture of the skin, making the pores less visible, while the other mask the one with the green tube is a purifying mask. Both leave a soft and clean skin! Use it you on the clean skin for 10-15 minutes and then you can remove it with warm water by making circular movements. The use of this product is recommended for 1-2 times a week and, if you wish, you can use them in a different way, creating the famous multimasking effect. You can buy them for 4.90 CHF!
Il dentifricio Candida White Optic per un effetto sbiancante immediato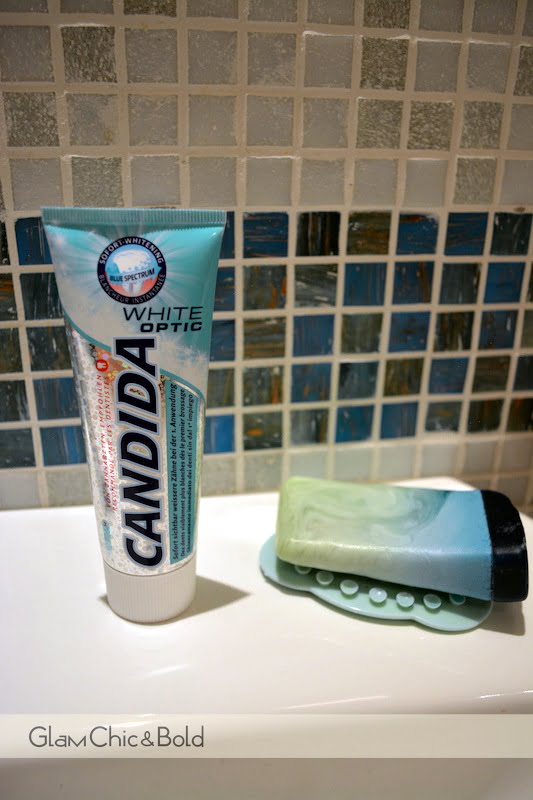 Passiamo ora ai denti e parliamo del dentifricio Candida White Optic che va ad incrementare l'assortimento di prodotti Candida. Come potrete ben immaginare, si tratta di un prodotto utile per sbiancare i denti proprio grazie alla tecnologia Optic White. Praticamente, lo sbiancamento ottico Blue Spectrum si deposita sui denti creando una pellicola e dandogli quindi un aspetto più bianco ed intenso. Il dentifricio Candida White Optic (75 ml) è disponibile al costo di 4.50 CHF.
Now let's talk about the new Candida White Optic toothpaste that increases the Candida product range. As you can see, it is a useful product to whiten your teeth thanks to the Optic White technology. Practically, the Blue Spectrum optical whitening deposited on the teeth creating a film and giving it a more white and intense appearance. Candida White Optic toothpaste (75 ml) is available for CHF 4.50!
Le nuove creme mani I am con un look metallizzato
Terminiamo con un prodotto assai importante durante la stagione invernale di cui io non posso assolutamente fare a meno: sto parlando delle creme per le mani! Questa volta Migros ci propone 3 prodotti dal look metallizzato e con profumazioni assai interessanti. Difatti, troviamo quelle con il 10% di burro di karité (utile per le mani screpolate), con lavanda-rosmarino e citronella-zenzero che aiutano ad idratare la pelle. Le nuove creme per mani di Migros si assorbono velocemente e, soprattutto, non le lasciano unte! Se siete interessate all'acquisto, qui trovate i prezzi: crema mani I am Karité (75 ml) 6.40 CHF, lavanda-rosmarino e citronella-zenzero a 5.90 CHF.
Let's finish with a very important product during the winter: I'm talking about the creams for the hands! This time Migros offers us 3 products with a metallic look and very interesting fragrances. In fact, we find those with 10% shea butter (useful for chapped hands), with lavender-rosemary and citronella-ginger that help to moisturize the skin. The new creams for hands by Migros are absorbed quickly and, above all, do not leave them greasy! If you are interested to buy them, here there are the prices: I am Karité hand cream (75 ml) 6.40 CHF, lavender-rosemary and citronella-ginger for 5.90 CHF.
Comments
comments