Ragazze oggi vi parlo di un portale con cui ho avuto il piacere di avviare una collaborazione: si tratta di Sammydress, vera e propria boutique online dedicata all'abbigliamento per donna, uomo e bambino.
Review Sammydressammydresss
I was able to try two pieces of their website that is a  cute cardigan and a necklace with a small owl; I've combined both objects under a very simple outfit, with jeans, red jersey turtleneck, high sneakers colored head of boron in turn coordinates with a brown bag. Now let's go to the real review Sammydress: I start to tell you about the black and white striped cardigan that looks perfect to wear under garments purposes, such as my red jersey cotton, or a nice blouse. Its length is perfect for me and as you can see stops in the middle of my thigh, so as not to make me lower than I am XD (ahahhaha). As regards the material, on the site is declared cotton, and the cost of this  nice cardigan Sammydress is € 5.42 / 6.62 CHF.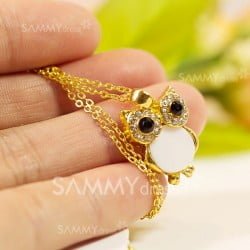 The other object tha I tried is the funny necklace with owl, an animals that during the last year is the protagonist not only the clothing but also in the home furnitere. Anyway, this accessory made with a gold chain and a pendant of fairly small size, so do not be too invasive in your look. I would not recommend wearing the necklace with a turtleneck (as I did), especially if you have a neck a little bit bigger, but better during the summer with low-cut garments. The necklace has the traditional hook closure and can be adopted under any outfit. The prize of this accessory is 1.73 € /2.11.
I would advise the shop Sammydress to all those girls who are looking for original clothing that you can not always find in traditional stores, at very affordable prices and I tell you that I had not  problem with customs fees (I live in Switzerland 😛 Remember?) Now I want to know if you like my clothing by Sammydress! Did you know this online shop?