Smoky Poppy The Body Shop, l'edizione limitata per S.Valentino
Partiamo con un'anteprima davvero mooolto interessante che porta la firma di The Body Shop: sto parlando della sensuale linea Smoky Poppy, che troverete nei negozi dal mese di febbraio, in edizione limitata, fino ad esaurimento scorte.
Come potete ben vedere il packaging è decisamente sensuale e si basa principalmente su due colori ad hoc per l'occasione, ovvero il nero ed il rosso. Non manca neppure la presenza del papavero, che poi dà proprio il nome alla linea e la contraddistingue con la sua fragranza.
Let's start with a special preview signed by The Body Shop: I'm talking about the new collection Smoky Poppy, a limited edition that you can find in all shop of The Body Shop or in the shop online in February. As you can see, the packaging of Smoky Poppy's products is so sensual and it based on the red and black colors. On the box you find the design with poppy that marked this line of products.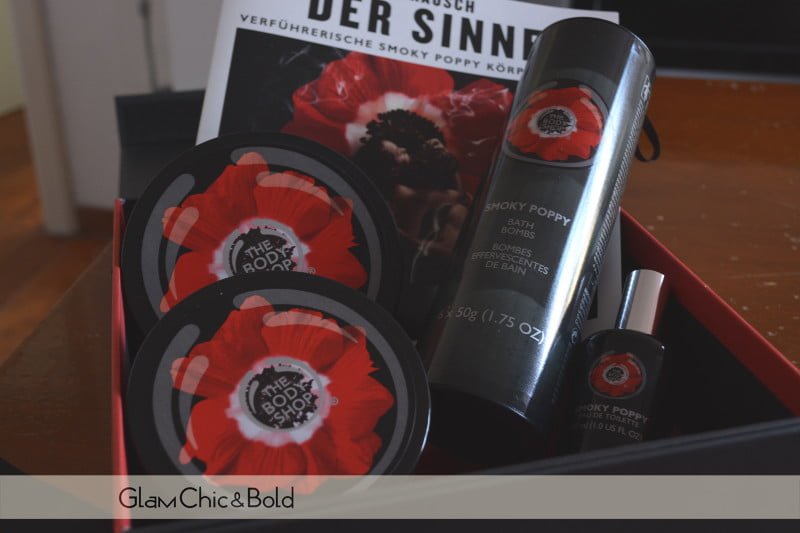 La nuova edizione limitata al papavero Smoky Poppy si propone al pubblico con ben 7 prodotti per la cura del corpo: l'esfoliante corpo, il burro corpo, il gel bagno e doccia, l'idratante corpo, le bombe da bagno, l'olio da massaggio e l'eau de toilette. Tutti i prodotti sono accomunati dall'ingrediente chiave ovvero dall'estratto di petalo di papavero raccolto a mano dalla regione Ankara in Turchia, un profumo decisamente sensuale ed elegante che vi potrà accompagnare tutti i giorni, ma soprattutto durante il giorno della Festa degli innamorati.
Esfoliante corpo 24.90 CHF
burro corpo  24.90 CHF
gel bagno e doccia 9.90 CHF
l'idratante corpo 19.90 CHF
bombe da bagno 29.90 CHF
l'olio da massaggio  24.90 CHF
l'eau de toilette 24.90 CHF
The new limited edition of Smoky Poppy The Body Shop composed by 7 product for the body care: seed pealing, body butter, shower gel, body lotion, bath bombs, massage oil and eau de toilette. All products are brought together the main ingredient that is the extract of poppy petal handpicked by region Ankara in Turkey. This fragrance is sensual and elegant and you can take it with you every day, but especially during the Valentine's Day!
Seed pealing 24.90 CHF
body butter 24.90 CHF
shower gel 9.90 CHF
body lotion 19.90 CHF
bath bombs 29.90 CHF
massage oil 24.90 CHF
eau de toilette 24.90 CHF