Anteprima Doll's Collection Catrice
La nuova collezione di Catrice è davvero eccezionale: si fa un salto indietro negli anni Sessanta, al momento in cui l'attrice e modella Twiggy conquistava veramente tutti con il suo stile da bambola. Con una linea spessa di eyeliner e diversi strati di mascara e colori pastello, tra cui lavanda, verde chiaro e albicocca, potrete  creare un look da bambola fresco grazie ai nuovi prodotti Catrice!
La nuova collezione sarà disponibile da metà marzo a metà maggio 2015!


The new makeup collection by Catrice is amazing: let's jump back in the Sixties, at the time that the actress and model Twiggy conquered all with her doll style. With a thick  eyeliner and several coats of mascara and pastel colors, including lavender, light green and apricot, you can create a fresh doll look  with new products Catrice!
The new collection Doll's Collection Catrice will be available from mid of March to mid Mazy 2015.
Satin Matt Eyeshadow – Doll's Collection Catrice
Questi ombretti si presentano con una texture morbide e con un finish opaco-satinato. I colori disponibili con la Doll Collection Catrice sono tre, nei colori lavanda, crema e verde pastello.
These eyeshadow have a soft texture and show us as satin-matt finish are available in three beautiful colors: lavander, cream and green.
Colori disponibili/Available colors:
C01 Playing in Lavender Heaven
C02 Hide & Green
C03 Be My Porcelain Doll!
Matt Dip Eyeliner – Catrice

Questo eyeliner è perfetto per creare il giusto stile bambola: il colore si applica facilmente e offre un risultato accurato con una finitura opaca.
This beautiful eyeliner is perfect to create an amazing doll look with a matt black!
Glamour Doll Mascara – Catrice
Questo mascara vi aiuterà ad ottenere uno sguardo più profondo con ciglia dal volume extra e più lunghe. Il mascara della nuova collezione Doll Collection di Catrice sarà disponibile nell'unico colore nero.
This mascara will help you get a deeper look with lashes extra volume and longer. The mascara of the new collection by Catrice Doll Collection will be available in the only black color. 
Doll Lashes – Doll's Collection Catrice
Questo piccolo set è perfetto per creare un look bambola davvero speciale! Questo set contiene al suo interno ciglia superiori ed inferiori e, inoltre, una piccola colla per farle aderire al nostro occhio.
This small set is perfect to create a doll look really special! This set contains within upper and lower lashes and also a little glue to make them adhere to our eye.
Ball Blush – Catrice
Tamponate questo blush cupola cremoso direttamente sulle guance per ottenere un colore fresco color albicocca, con finitura opaca. Le texture luminosa sulla pelle offre un colorito straordinario sulla pelle. L'unico colore disponibile è C01 Droll.
Dab this creamy blush dome directly on the cheeks to get a fresh apricot color, with a matte finish. The light texture on the skin provides an extraordinary color on the skin. The only color available is C01 Droll.
Nail Lacquel – Catrice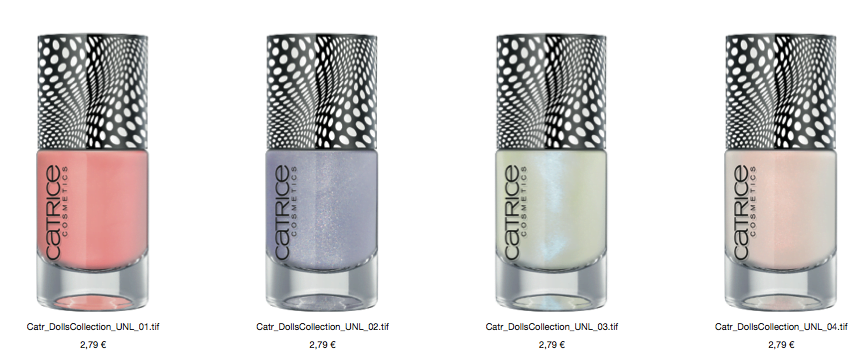 Lavanda, albicocca, verde pastello e bianco con scintillii di colore albicocca: questi sono i colori dal look retrò che troverete con Doll's Collection di Catrice. Questi colori riescono a garantire una copertura massima e massima brillantezza.
Lavender, apricot, pastel green and white with sparkles of apricot color: these are the colors of the retro look that you will find with Doll's Collection of Catrice. These colors can ensure maximum coverage and maximum brilliance.
Colori disponibili/Available colors:
C01 Droll like a Doll
C02 Playing in Lavender Heaven
C03 Hide & Green
C04 Be My Porcelain Doll!
Cuticle Tattoos – Doll's Collection Catrice
I tatuaggi per cuticola – che si presentano come piccole e grandi archi – si applicano direttamente sotto il letto ungueale delle dita per dare alle unghie una cornice elegante. In primo luogo, rimuovere eventuali residui di smalto o l'eccesso di sebo,  scegliere il formato desiderato tatuaggio, tagliare e rimuovere la carta di supporto e poi applicarlo sulla pelle asciutta premendo per 5 secondi con l'immagine rivolta verso il basso. Infine, stacca la pellicola trasparente ed il gioco è fatto. Successivamente potrai rimuovere la decorazione con dell'olio per corpo.  Sono disponibile nell'unica variante C01 Catch me if you're Ken.
These beautiful cuticle tattoos are applied directly below the nail bed on your fingers. Remove any make-up residues or excess sebum, choose the desired tattoo size, cut it out and remove the white backing paper. Then press the tattoo onto dry skin for 5 seconds with the image facing downwards. Now you have your tattoo! You can remove  using baby oil. The colors is C01 Catch me if you're Ken!