La nuova collezione di Catrice è davvero eccezionale: si fa un salto indietro negli anni Sessanta, al momento in cui l'attrice e modella Twiggy conquistava veramente tutti con il suo stile da bambola. Con una linea spessa di eyeliner e diversi strati di mascara e colori pastello, tra cui lavanda, verde chiaro e albicocca, potrete  creare un look da bambola fresco grazie ai nuovi prodotti Catrice!
La nuova collezione sarà disponibile da metà marzo a metà maggio 2015!
Satin Matt Eyeshadow – Doll's Collection Catrice
Questi ombretti si presentano con una texture morbide e con un finish opaco-satinato. I colori disponibili con la Doll Collection Catrice sono tre, nei colori lavanda, crema e verde pastello.
Colori disponibili:
C01 Playing in Lavender Heaven
C02 Hide & Green
C03 Be My Porcelain Doll!
Matt Dip Eyeliner – Catrice

This beautiful eyeliner is perfect to create an amazing doll look with a matt black!
Glamour Doll Mascara – Catrice
This mascara will help you get a deeper look with lashes extra volume and longer. The mascara of the new collection by Catrice Doll Collection will be available in the only black color.
Doll Lashes – Doll's Collection Catrice
This small set is perfect to create a doll look really special! This set contains within upper and lower lashes and also a little glue to make them adhere to our eye.
Ball Blush – Catrice
Dab this creamy blush dome directly on the cheeks to get a fresh apricot color, with a matte finish. The light texture on the skin provides an extraordinary color on the skin. The only color available is C01 Droll.
Nail Lacquel – Catrice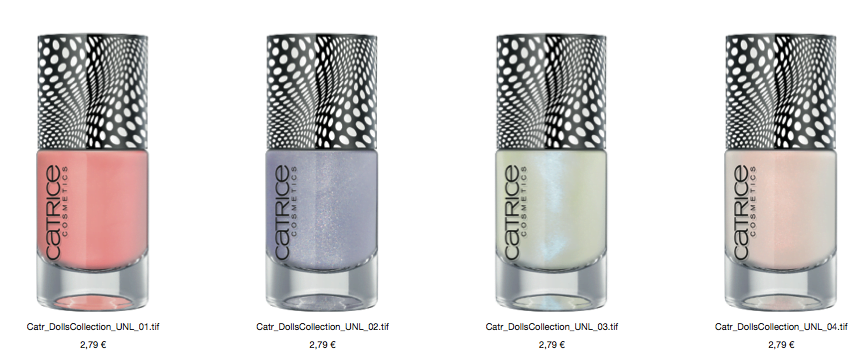 Lavender, apricot, pastel green and white with sparkles of apricot color: these are the colors of the retro look that you will find with Doll's Collection of Catrice. These colors can ensure maximum coverage and maximum brilliance.
Available colors:
C01 Droll like a Doll
C02 Playing in Lavender Heaven
C03 Hide & Green
C04 Be My Porcelain Doll!
Cuticle Tattoos – Doll's Collection Catrice
These beautiful cuticle tattoos are applied directly below the nail bed on your fingers. Remove any make-up residues or excess sebum, choose the desired tattoo size, cut it out and remove the white backing paper. Then press the tattoo onto dry skin for 5 seconds with the image facing downwards. Now you have your tattoo! You can remove  using baby oil. The colors is C01 Catch me if you're Ken!