I know, is still a bit cold in Switzerland to think about to get in the sun, but here, in Ticino, the days are warm and, therefore, I already think the days to spent at the river, in the swimmig-pool and (maybe) at the sea.
Precisely for this today I show you three new Migros products: these consist of solar Sun Look Migros that have been transformed for design and their formula. With over 45 years of experience, the brand of solar by Migros, offers a large assortment with 8 sublines thinked for all family.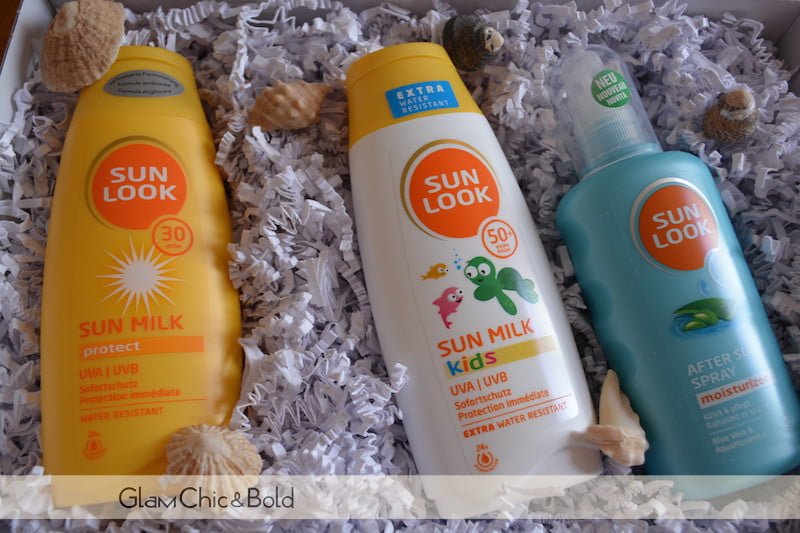 Sun Look Migros Protect
This is the basic line of solar specifically designed for the family: thanks to the effective protection system for UVA and UVB, this product provides protection from sunburn and prevents skin aging well. The formula of this product with AcquaCacteen – an extract of prickly pear Mexican – and with vitamin E promises a strengthening of the natural defenses and skin hydrated for up to 24 hours.
The novelty of this product is that it shows a formula lighter and even sweeter than the previous, so as not to obtain an unpleasant effect on the skin. This bottle contains 200 ml of the product with SPF 30 and costs CHF 10. At Migros you can found also these versions:
Sun Look protect Sun Milk con IP 50
Sun Look protect Sun Milk Family (400 ml) con IP 20 e 30
Sun Look protect Sun Spray con IP 25
Sun Look protect Sun Milk Mini (50 ml) con IP 30
Sun Look Migros Kids
Protect children's skin is very important, especially because their skin is more delicate than ours. Migros offers a line designed exclusively for little baby, so assicure protect their delicate skin from UVA and UVB.
The formulation of these products is water resistant and is able to strengthen the skin's natural defenses; also in this case is guaranteed hydration for 24 hours. The bottle of which are in the possession of 200 ml with protection index 50 and costs 13.80 CHF.
Migros offers also these versions:
Sun Look Sun Milk Kids con IP 30
Sun Look Sun Milk Kids Mini (50 ml) con IP 50+
Sun Look Sun Spray Kids con IP 50+
Sun Look Migros After Sun
To refresh your skin after a day of sun exposure is necessary to use a product like this: thanks to the formula with aloe vera and AquaMaximiser, you can moisturize the skin, laying it well and calming irritations. In this way, you get a skin silky and soft. You can use this product not only as an after sun, but also as a product for everyday to treat any part of the body. The bottle of which I possess is 200 ml and costs 7.30 CHF.
Find these versions available as well:
Sun Look After Sun Milk, 200 ml
Sun Look After Sun Milk Family, 400 ml
Sun Look After Sun Cooling Gel, 200 ml
You can buy all products of Sun Look in your Migros!