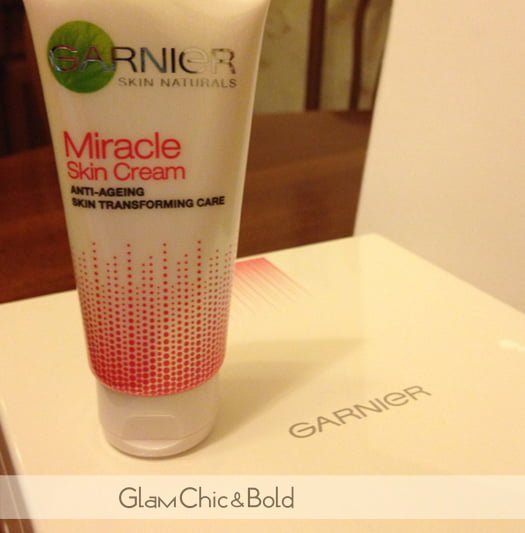 Today I want to share with you the new products signed by Garnier: it's the anti-aging cream Miracle Skin Cream, a product that has been presented not many days ago, with the event organized with Blogger Italia. Unfortunately, I can't tell you how it was the blogger event but I cant speak with you about the new product by Garnier.
Garnier Miracle Skin Cream is the first anti-aging cream that is suitable for all  types of skin that looking to soften the appearance of wrinkles; it is an innovative product, mainly because it is possible to see the benefits from the first glance leaving you with a "Wow" in the mouth. Another very interesting aspect is that the cream Garnier  is able to self-adapt to any skin, giving it shine and creating a healthier appearance of the face, correcting the annoying signs of aging.
As you can well imagine, the product is enriched with micro-capsules that have the internal pigments that go so perfectly to give effect to the skin, with a healthier thereof. But that's not all, because in addition to reducing the signs of aging on the skin, the cream protect it from the sun  with a protection factor of SPF 20. Overall, then, I have identified 5 points to summarize the effectiveness of Garnier Miracle Skin Cream:
Protection from the sun with SPF 20;
Reduction of wrinkles, discoloration, and crow's feet over time;
Technology Optical  where you get a real benefit, visible immediately with a healthier color of the face and silky skin;
Texture self-adaptive: Garnier Miracle Skin Cream is suitable for any embodied from Caucasian to Afro-American;
It's suitable to use for your beauty routine because it illuminates the face and you can use only it  in spring and summer when foundation is too heavy;
I tested the cream on the face of my mother who has an olive complexion color and some signs of age and I have to say that the results are really visible: skin more radiant and soft to the touch, uniform color and pleasant scent. Even my mother was now satisfied, pointing out the very idea of the fact that it is a perfect product for the summer. Another interesting aspect of Garnier Miracle Skin Cream is that your skin insn't greasy!
You can find in stores the new cream Ganier at a cost of 12.99 €, while the version of Miracle Skin Cream Eyes will be proposed at a cost of 11.99 €. What do you think of these two new products: they have already tested?
Share your opinion!