Zoe Revital creme per pelli mature
Oggi desidero parlarvi di prodotti adatti per le pelli mature che sono stati presentati proprio di recente da Zoe Revital creme, con la formula speciale del Dermcom ultimata grazie ai ricercatori dei laboratori Migros del Mibelle Group.
Today I want to show you the last new products signed by Zoé Revival: they are products realized with the special formulation adopted by the scientists laboratories of the Migros of the Group Mibelle in Buchs.
Ma come funziona il DermCom? In pratica, si cerca di stimolare la formazione della matrice nel derma dove si presentano le rughe. Molecole specifiche dell'estratto di crocus Cream Beauty attivano i fattori di crescita della pelle portando alla rigenerazione cutanea. Il tessuto cutaneo appare così più compatto e la pelle è più soda. Stando a quanto si legge, già dopo due settimane di applicazione si verifica un aumento del del collagene ed elastina nella pelle ed è visibile maggiore elasticità cutanea.
In practice, the DermCom stimulate the formation of the matrix in the dermis where wrinkles occur. Specific molecules of the extract of Crocus Cream Beauty activate the growth factor of the skin leading to skin regeneration. The skin tissue thus appears more compact and the skin is firmer. According to what we read, after just two weeks of application of this products there is an increase of collagen and elastin in the skin and greater elasticity of the skin is visible.
Zoe Revital creme: Crema da giorno rassodante con SPF 15
Questa crema per pelli mature si presenta con una protezione solare 15 così da preservare la pelle dai raggi UV. Come ho già detto, si tratta di una crema arricchita con la formula DermCom e Liftonin® , in grado di favorire i meccanismi naturali di protezione della pelle in maniera tale da attenuare i segni dell'invecchiamento e dell'affaticamento. Il prodotto si presenta all'interno di un barattolo da 50 ml ed è venduta in tutti i negozi Migros al costo di 13,40 CHF.
This cream for mature skin with sun protection 15 protect your skin from UV rays. As I said, this is a cream formulation enriched with DermCom and Liftonin ®, that they are able to support the natural protective mechanisms of the skin and reduce the signs of aging and fatigue. The cream Zoé Revival show you in a jaf of 50 ml and it is sold in all stores Migros at a cost of 13,40 CHF.
Zoe Revital DermCom siero rassodante Lift & Firm
Il siero Zoé Revital si presenta all'interno di un flacone dosatore da 30 ml e il suo scopo è di rendere la pelle più giovane, dando maggiore volume e rassodandola. La sua consistenza è molto leggera, si presenta di colore bianco, con un profumo piacevole e si assorbe molto velocemente sulla pelle. Per acquistare questo prodotto da Migros, ci vorranno solo 14,80 CHF.
The serum Zoé Revital show you within a dispenser bottle of 30 ml and its function is to make the skin look younger, giving more volume and firming. Its texture is very light, its color is white, with a plesant scent and it absorbs on the skin very quickly. To purchase this product in Migros, it will take only 14.80 CHF.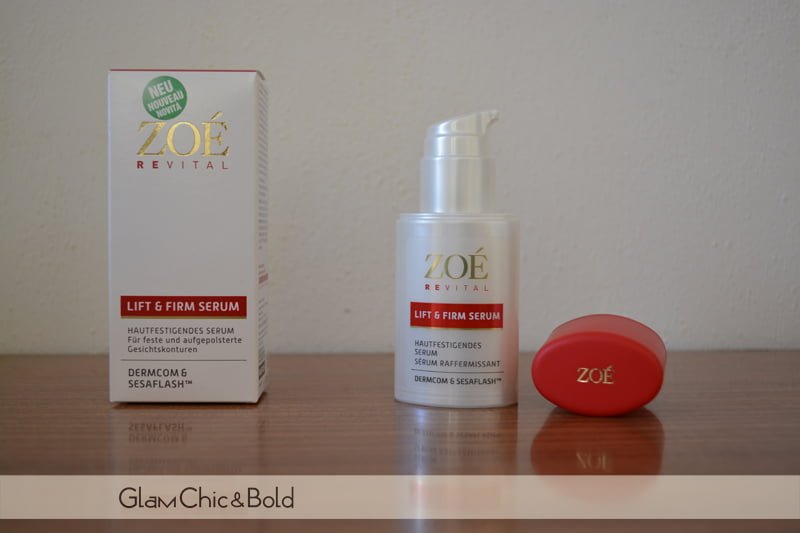 Zoe Revital balsamo intensivo anti-rughe
Il packaging di questo prodotto è veramente molto comodo, poiché permette di stendere il prodotto in modo comodo sul contorno occhi e bocca, ma anche sulla fronte e collo. Anche in questo caso ci troviamo di fronte ad un prodotto che ha lo scopo di restituire un aspetto più giovane, senza però dover ricorrere chissà a quale stratagemma. Il balsamo intensivo anti-rughe Zoe Revital creme è disponibile al costo di 16,60 in un flaconcino da 15 ml.
The packaging of this product is really handy, because it allows you to apply the product so comfortable around the eyes and mouth, but also on the forehead and neck. Also in this case we are dealing with a product that is designed to restore a more youthful appearance. The balm Intensive anti-wrinkle creams Zoe Revital is available at a cost of 16.60 for a 15 ml.