If you have found this page, you already know for sure something about the anti yellowing shampoo as a solution for all those who are in need to get rid of the yellowish effect that typically it is possibile (unfortunately) to see on gray, blond and white hair.
Let's take a closer look at the anti yellow (or no yellow, anti-yellowing) shampoo also to understand for what is designed for this particular product.
The anti yellow shampoo: it is the right thing you're looking for, when…
As you can easily imagine, the anti yellowing shampoo is a product you can use to get rid of the unaesthetical yellowish effect that "shines" on the hair as well as the reddish effect it is not unusual to see on platinum (very light) blonde, white or gray hair. Usually you can see this undesirable effect also on colour-treated or highlighted hair, especially when they show the typical decolouration and turn matte.
This shampoo is not well suited for dark hair, a well black or chestnut brown hair!
If you're wondering about which are the ingredients of the anti yellowish shampoo, you have to check out the formula of the one you bought: on the market, you can find the typical shampoo available at the supermarket (Elvive by L'Oréal) as well as the natural one by Alkemilla.
How do you use the anti yellow shampoo?
As you probably have already discovered, the anti yellowing shampoo has a particular violet colour: in its formula, there are some blue and violet pigments whose purpose is to fight against the yellowish effect, bringing back the original colour on your hair. This undesirable effect is normally due to these reasons: for example, sunbathing, as well as a bad decolouration of the hair.
This is the reason why you have to find out the best (and right one) anti yellow shampoo available on the market for your hair, the one that will make shine your hair. Please, keep in mind that you should always wear gloves when you'are applying this kind of shampoo – or remember to wash quickly and carefully your hands and nails after the application – because this product can stain your hands.
Remember to apply your shampoo on wet hair, spreading the product with a massage from the root to the end of the hair (do not use water to dilute it) and then keep it on your hair for 3 to 5 minutes, as a hair mask.
On the market you can find also a special anti yellow silver shampoo that it is suitable for all whom have gray or white hair: this one is made to enhance the silver colour of the hair, preventing the undesired yellowish effect.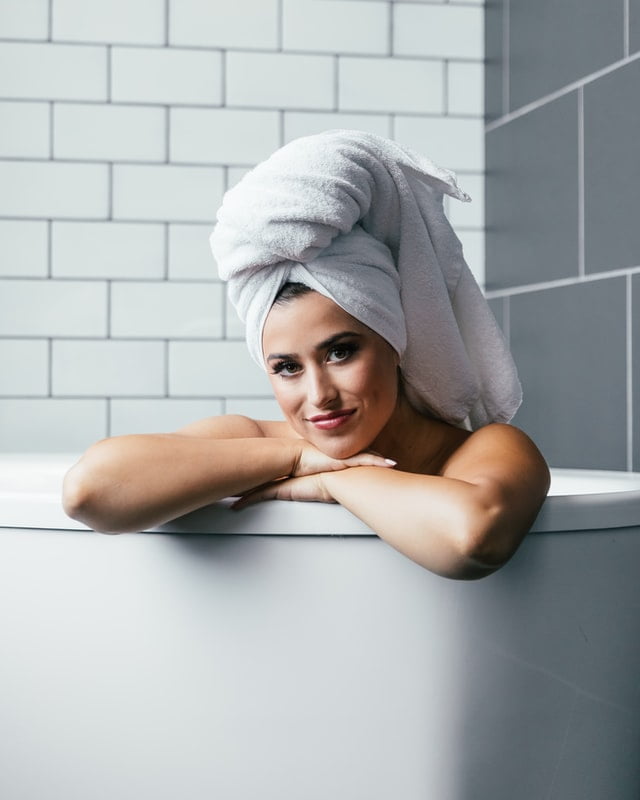 How you can prepare an anti yellow shampoo DIY?
You could probably have already wondered about the chance to prepare the cosmetics you use daily for your beauty routine at home. Even in the case of the anti yellowing shampoo DIY, there are same chances you could reach the result you desire. Surfing the web, I found a recept that could doubtless give you an idea of what you have to do if you want to approach this green trendy world of the homemade cosmesis. To prepare your DIY anti yellow shampoo you need all these ingredients:
honey
blueberry or pomegranate extract
demineralized water
First of all, you should be aware that this isn't properly an anti yellow shampoo, but the result you are going to get it is indeed closer to a normal shampoo. The honey, in fact, will nourish deeply your hair and in the meanwhile the blueberry or pomegranate extract – with its colour that is complementary to the yellow – will make more glossy and shiny your blonde hair. Please keep in mind that due to the fact that it is a DIY solution, it is not guaranteed that the result is going to be really visible on your hair.
If you are looking for something that will offer you a mild INCI with natural ingredients, it is probably better that you take a closer look at the list I'm going to show you below, in particular choosing the organic solutions.
Anti yellow Shampoo: which one do you preferably use?
If you are thinking about where you can buy the more effective anti yellow shampoo for your hair to get a good result, you have found the right page: you are going to be able to buy them using the URL and taking a look at the offer on stores as Tigotà, Acqua&Sapone, Migros, Coop, Manor or cosmetics stores with hair care products.
Anti yellow shampoo Elvive by L'Oréal
The first product I'm going to suggest you is the Elvive Color-Vive Purple Shampoo anti yellow by L'Oréal, that is in particular well suited for whom that have got chestnut brown hair with highlights, but also blonde or colour-treated hair. It is a product that will help you on making lighter the yellow tones and in the meantime it will make naturally shining your hair. Thanks to the violet pigments of its formula, as well as its nutritive elements and the UV filter, you will restore the natural beauty of your hair. You can use is once a week, combined with the conditioner, when you are not going to use your usual shampoo. You can buy this product on supermarkets or your anti yellow shampoo on Amazon with the conditioner.
Anti yellow shampoo by L'Oréal Silver
If you don't have blonde hair, but white or gray hair, I suggest you to choose this product. The formula of this anti yellow shampoo Silver by L'Oréal has been enriched with violet pigments that are in particular effective on getting rid of the yellowish lights, but also with magnesium. Thanks to this product you're going to be able to make shine again your hair! You can buy the anti yellow shampoo Silver by L'Oréal (click right here) on Amazon and by stores with products for hairdressers.
Anti yellow shampoo by Kérastase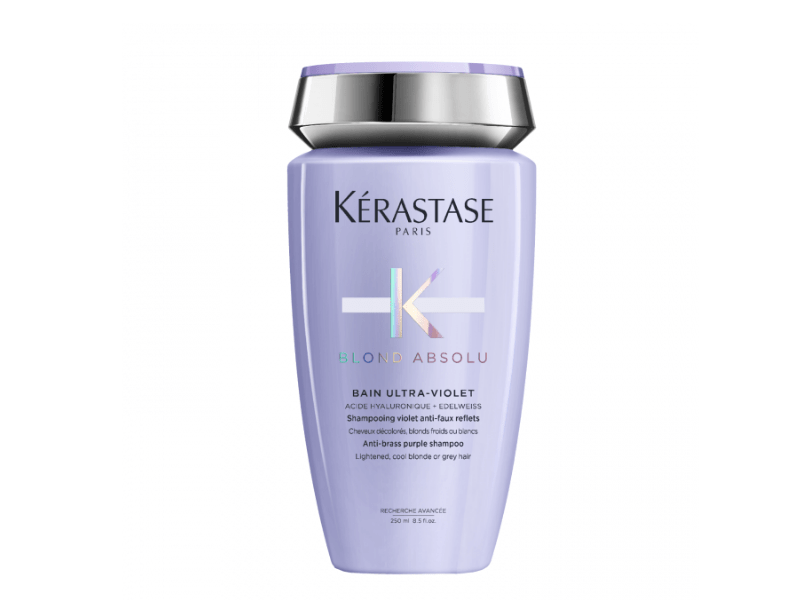 This shampoo too has been enriched with violet pigments that have an effect on hair, removing that undesirable yellowish/orangish effect. If you use it consistently, you're going to make shine again your blonde or gray hair. This shampoo is also the best one to protect your hair against pollution, another reason why normally you could expect to have to face this kind of problem. The ialuronic acid and the edelweiss available on the formula of this shampoo give to the colour of your hair a more nourrished and vivid appearance. You can find this shampoo Blond Absolu by Kérastase at a very good price on Amazon!
This brand is really the right one if you're looking for some styling products: in particular I really love their Kérastase Couture Styling selection!
Shampoo Fanola, No Yellow
This is considered the best anti yellow shampoo for colour-treated or very highlighted hair. Its formula is in particular well suited to neutralize that annoying yellowish effect you can see on white, gray, blonde and silver hair. On the same selection "No Yellow" you find also the foam conditioner and mask. Keep in mind to use this shampoo with a nutritive one, choosing one of them on daily basis. If you would like to try it, you can the the shampoo Fanola No Yellow on Amazon.
Ice Cream No-Yellow Shampoo by Inebrya
If you're looking for a good balance between quality and price, this is the right shampoo to remove the yellowish effect on your hair. This product has a very concentrated formula – you have to dilute it or use it carefully, in very little quantities – and it is very important to pay attention to its effectiveness. Thanks to its formula, you're going to get completely rid of the yellowish or orangish effect on your silver blurred hair. As usual, I suggest you to avoid to use only this kind of shampoo on your hair. Keep in mind to choose also a nutritive one, because it will help you to prevent to make your hair very dry. You can buy here the Ice Cream No-Yellow Shampoo by Inebrya to take care of your hair!
Anti yellow shampoo blonde perfecting by Moroccanoil

This product, as well as many others, is well suited to fight against that ugly brass/yellowish effect that usually is visible on a damaged blonde, gray or highlighted hair. Its formula with violet pigments that fight yellow and orange tones will give your hair its natural beauty. The anti yellow shampoo by Moroccanoil has been enriched with Argan oil that nourrish the hair fiber, repairing also the cuticle. You're going to take advantage of the effect provided by its formula already after the first use! If you would give it a try, you can buy the anti yellow shampoo blonde perfecting by Moroccanoil on Amazon!
Catwalk by Tigi Fashionista Shampoo
The next product I'm going to show you is Catwalk by Tigi and it is highly pigmented and dark: this means that it will help you to achieve faster your goal. Fashionista is an anti yellowing and nutritive shampoo that is suitable in particular for all who want to regain a silver reflection and a nice shiny effect on the hair. It is also well suited to disentangle your hair, a very interesting freature that certainly gave its contribution to make it a real bestseller all around the world. I remember you that this shampoo also doesn't contain any sulphate and it promises you that you're going to have back again your ash blonde or gray/silver hair you were looking for. If you have a dried scalp, remember to use it together with an hydrating mask or a nutritious shampoo! Let's give a try to the Catwalk Fashionista shampoo!
Anti yellow shampoo K-Hair by Alkemilla
If you are looking for an organic and natural anti yellow shampoo, K-Hair by Alkemilla is the best one for you, in particular if you have blonde or white hair! This product is well suited for all who have allergies and a sensitive skin, thanks to its natural and organic composition with ingredients as lemon, orange, blueberry, black mulberry and passion flower. There aren't any parabens on its formula and this shampoo will help you to restore your white or blonde shiny hair. If you would like to try it, click here => anti yellow shampoo Alkemilla.
Anti yellow shampoo Invigo Blonde Recharge by Wella
This is another interesting anti yellow shampoo option, signed by Wella: its name is Invigo Blonde Recharge. It helps you to make more intense your hair colour, getting rid of the unaesthetical yellowish reflections on blonde hair. Following this link, you can find this shampoo Invigo Blonde Recharge by Wella!
Anti yellow shampoo Cromatix Silver by Biopoint
If you have white, grizzled or gray hair the Cromatix Silver shampoo by Biopoint is indeed the right one for you: thanks to its formula designed to enhance the brightness of your hair removing also the yellowish effect, it will help you taking care carefully of your hair. This shampoo has in its formula the mallow glycolic extract that is perfect for taking care gently of your hair, making more vivid the colour. You can buy this anti yellow shampoo by Biopoint on Amazon!