Spring 2020 is coming and for this reason I decided to show you a preview about the new make-up collection by Benefit. Let's take a look this new collection by Benefit!
Cheek Star – Reunion Tour Benefit
The first novelty that I show you is a new limited edition palette of blushes, bronzers and highlighters that will allow you to give light and shadows to your face: in particular, you will find the full size versions of the blushes, bronzers and highlighters with the new shades of Dallas, Sugarbomb and Georgia.
Cheek Star Mini Reunion Tour Benefit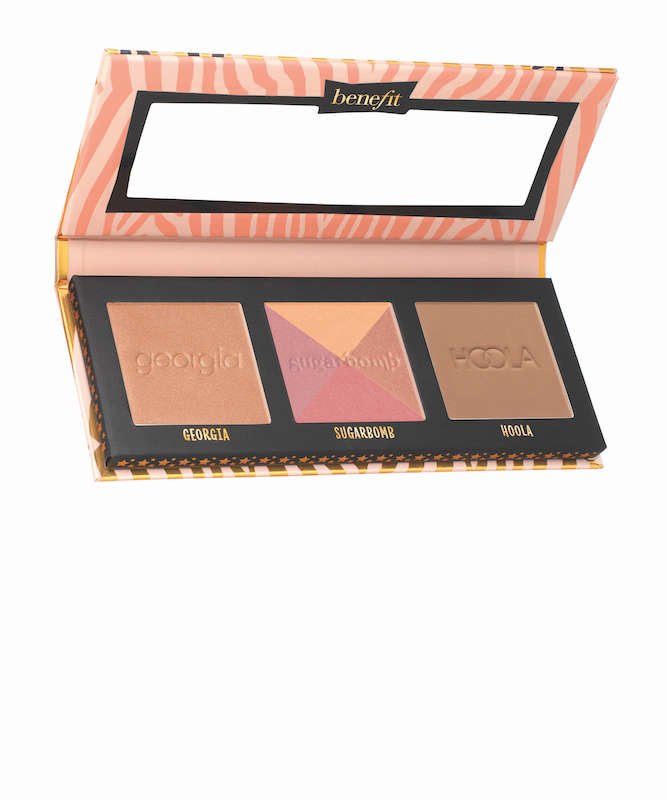 Se non desiderate acquistare una palette grande di prodotti per il viso, potrete prendere la versione più piccola che include Hoola ed i nuovi colori Georgia e Sugarboomb in formato mini.
Georgia Golden Peach Blush Benefit
For all fans of Benefit blush, I also announce the great return of Georgia by Benefit: the new version is even fresher than the 2004 version. The formula is silky and creamy and then the scent is pleasant, just peach cultured.
The POREfessional Hydrate Primer Benefit
Benefit has launched a new product on the market: it is the moisturizing primer, perfect for dry skin. According to when Benefit says it guarantees long-lasting make-up and freshness of the skin for 12 hours. The product is already on sale on the Manor-Sephora website for Switzerland, and in Italy on the official Sephora website.
Palette Brow Zings Benefit
Benefit's new Brow Zings palette has been transformed into the Pro version and has an innovative formula and new colors. This palette is very comfortable to carry around and includes eyebrow powders that guarantee a duration of 12 hours, colored waxes and transparent waxes to better sculpt the shape of the eyebrow. In the box there is also a double angled brush to better apply the waxes and a flat brush to apply the powders, as well as a brush with special fibers to blend well. Two colors are available: Light-Medium and Medium-Deep.
Make Up Set Brows & New Beginnings! Benefit
With the Chinese New Year, Benefit offers us this delicious limited edition set with some of its best sellers in mini size, inside a pink bag: there are the Precisely My Brow Pencil eyebrow pencil, The POREfessional Pearl Primer face primer, lip tint and Love Tint cheeks and Dandelion face powder.