On 11th June I gone with DiemmeMakeup to the pressday by Gruppo Paglieri in Milan; so today I'm going to deal about my experience and to show you the last new products that you'll find in the best shop.
FELCE AZZURRA – GRUPPO PAGLIERI
Felce Azzurra decided to renew the selection deodorants proposing three formats (sprays, sticks and roll-on) with a better formulation of the previous, able to ensure efficacy on the skin between 24/48 hours. Three fragrances are available for the new deodorant line Felce Azzurra: Classic, Fresh and Amber. The deo spray contains 150 ml of the product and is sold at a recommended price of € 2.96, the deo stick contains 40 ml at a cost of € 2.59 and deo roll-on (available only in the Classic fragrance) at a cost of € 2.99.
FELCE AZZURRA DOLCEPROTEZIONE FOR MEN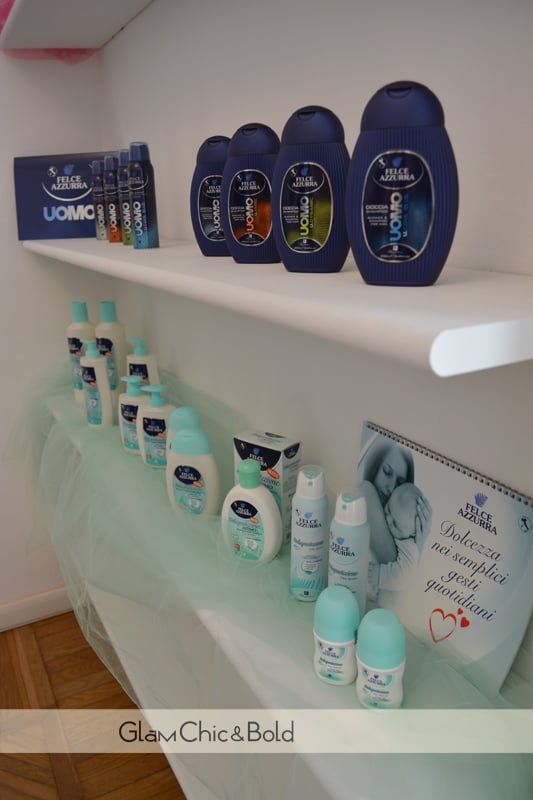 The other two line of Felce Azzurra is for Men and Dolce Protezione, perfect for sensitive skin. The DolceProtezione line grow up with deodorants in two format (spray and roll-on); this products are free allergens, parabens, dyes, and alcohol and leave the skin dry and cool for 48 hours. The fragrance is delicate due to the selection of delicate natural oils on the skin. The deo spray contains 150 ml of product and is on sale at the cost of € 3.59 recommended, while the deo roll-on is on sale at the cost of € 3.49. I remind you that this line consists of 5 products (most deodorants) designed just to offer maximum comfort to sensitive skin: Extra moisturizing shower gel, bath foam extra moisturizing, moisturizing liquid soap, body lotion and moisturizing fluid intimate cleanser odor control.
The line Felce Azzurra for men has been completely renovated, with new fragrances perfect for every day and can ensure freshness for 48 hours. The scents, available in u.cool blue, u.dynamic, u.rebel and u.ecxite, are free of alcohol and also occur with new ergonomic dispensers and more durable. As for the shower shampoo line, however, we find the same fragrance and are perfect for the man who want to have one solution in his hand for personal hygiene. The products of the men by Felce Azzurra are available in the following formats: deo spray (3.39 €), shower shampoo 200ml and 250ml (€ 1.95 and € 2.10)
FELCE AZZURRA BENESSERE
In addition to fragrances Argan, Shea and Cotton, Felce Azzurra Wellness add two new fragrance that it's realized with essential oils of Jojoba and Macadamia. Group Paglieri, in fact, decided to expand the line of shower gel designed for those who most pampered skin and therefore has added two new scent to the other three that you already know them. These products are free of parabens, silicones and have physiological pH and they are available in size from 200 ml and 250 ml at recommended price of 1.95 € and 2.10 €. I could feel the fragrance of the person at pressday of Gruppo Paglieri and I must say that they are one better than the other.
THE NEW COLLECTION ESSENZA ITALIANA FELCE AZZURRA
Now I present you the new line by Felce Azzurra "Essenza Italiana": this is one of the most interesting innovations that have caught my attention at pressday because it's a line of bath, shower and liquid soap fragrances of the flowers and fruits of our magnificent Italy. The Essenza Italiana by Felce Azzurra was enriched with extracts of 100% natural origin and almond oil. The fragrances, in this case, were selected by choosing just what most distinguishes Italy: we find the lavender of Liguria (rebalancing), the grape of Piedmont (smoothing), raspberries and blackberries in the Trentino (soothing), the flowers of Esperide of Calabria (refreshing), the iris of Tuscany (moisturizer), jasmine of Sicily (purifying) and fig of Marche (nutritious). The products are offered in the following way: bath (500 ml) at a cost of € 3.49, shower (250 ml) to 2.10 € and Liquid Soap (300 ml) at € 2.29; I remind you that the maxi will also be available from 750 ml soap refills at a cost of € 3.25