The Korean brand Dr. Jart launched the Cicapair line a long time ago: it is a solution designed for those with sensitive skin and who tend to have red areas (as in my case). The brand even works with dermatologists from 15 clinics as it uses its revolutionary yet modern formulations.
Cicapair by Dr. Jart: what's the use?
The Cicapair range from Dr. Jart. was developed to offer a range of treatments for sensitive skin that is often challenged by the appearance of scattered redness in different places on the skin. Dr. Jart's Cicapair range is based on the action of ingredients such as centella asiatica, herbs, natural extracts and mineral salts.
You can buy different suggestions to create a beauty ritual tailored to your needs. Below is a list of Dr. Jart Cicapair products from Sephora or Amazon.
Is the Cicapar by Dr Jart products on sale at Douglas?
This is one of the most frequently asked questions, but despite the fact that this is a well-known perfumery, there are no products from the Dr. Jart Cicapar range on sale in Italy. On the other hand, in Switzerland at Douglas you can find a wide range of Dr. Jart products such as Cicapair, but also the Ceramid line for super-intensive moisturising.
Cicapair Tiger Grass Enzyme Foam Cleanser
One of the Cicapair products that I have been using every morning for quite some time is the mousse: it is a product with a special texture enriched with moisturising glycerine that removes impurities and leaves the skin soft. I have noticed, however, that on the cheeks there is a bit of dryness once I dry the skin, but otherwise it is extremely gentle, even in the eye area.
Serum Cicapair by Dr. Jart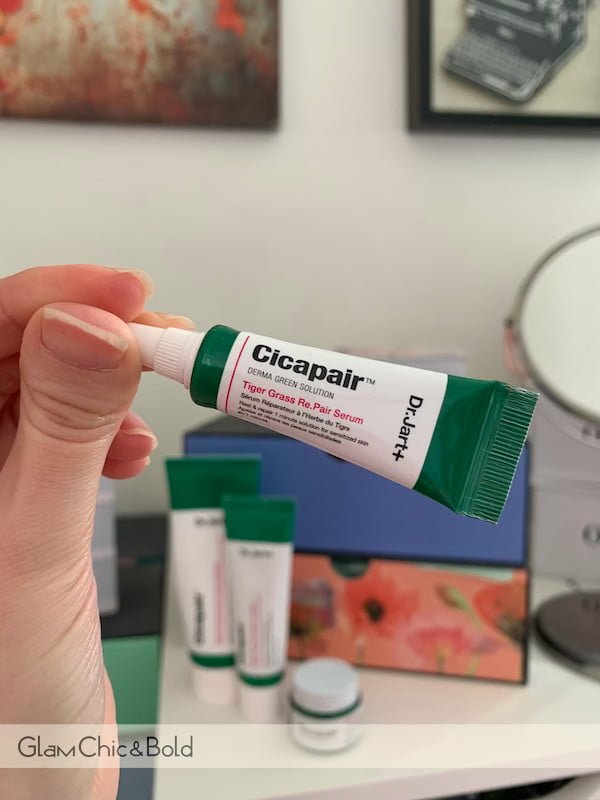 The Dr. Jart serum I have in my possession came in a small set, only 5 ml, but in the shop you can buy the 30 ml version with a handy pipette to dose the product. This serum has an extremely light gel texture and helps to soothe redness in the skin, while also moisturising dry and dehydrated skin.
I suggest you apply your serum by tapping – where it is needed – to carefully care for irritated or reddened skin.
Cicapair Tiger Grass Re.pair Cream
We all use to moisturise our skin and in this case I'm talking about the repairing product by Dr Jart Cicapair Tiger Grass Cream. This cream, available in a 50ml tube, is ideal for moisturising the skin: with its silky texture and pleasant lavender scent, it is able to take care of sensitive skin, calming redness and moisturising irritated skin.
I've had redness on my cheeks for about a week now and when I applied this cream for the first time, I noticed that the redness immediately subsided. To apply it well, you simply put the serum on first, let it absorb and then take a dab on your finger and apply it like any other moisturiser; Dr. Jart suggests insisting on the most irritated areas, adding more. I have combination to sensitive skin and I can tell you that when I applied Cicapair Tiger Grass Cream I didn't notice any shiny areas.
I would also like to remind you that this collection also includes a fabric face mask (I haven't tried the mask from this line yet, but I have already tested others such as Dr.Jart's Soothing Hydra Solution and found it to be excellent).