The Easter Collection by Lush for 2022
Easter is just around the corner and the British brand of Lush is offering us a new collection with elements typical of this time. Find out with me what Lush is offering for Easter 2022!
Bath bomb Flamingo Egg
If you like the idea of diving into a tub full of crystals, then this bath bomb from Lush for Easter 2022 is for you. The water will be coloured pink and blue with a scent of candyfloss and glittery salt crystals to soften your skin.
Bath Bomb The Golden Egg
This is a fully golden egg that will flood your bath with sparkling shimmers of yellow and a sweet honey scent. If you like to soak in a sweet bath, this is just the thing for you.
Bath bomb Follow the White rabbit
Do you want to follow a colourful bunny? Put this bath bomb in the water and watch as it fizzes with colour and an extraordinary scent. The scent of this bath bomb is fresh and fruity.
Bath bomb The flying carrot
Questo simpatico coniglietto che sbuca dalla carota ti permetterà di ottenere un duo di bombe da bagno di Lush per la Pasqua 2022. Avrai due bombe da bagno – un consiglio e una carota – con un profumo delicato all'olio di limone di Sicilia e polvere di carota che ti aiuterà a rendere più splendente la tua pelle.
Bubble Bar o The Easter Bunny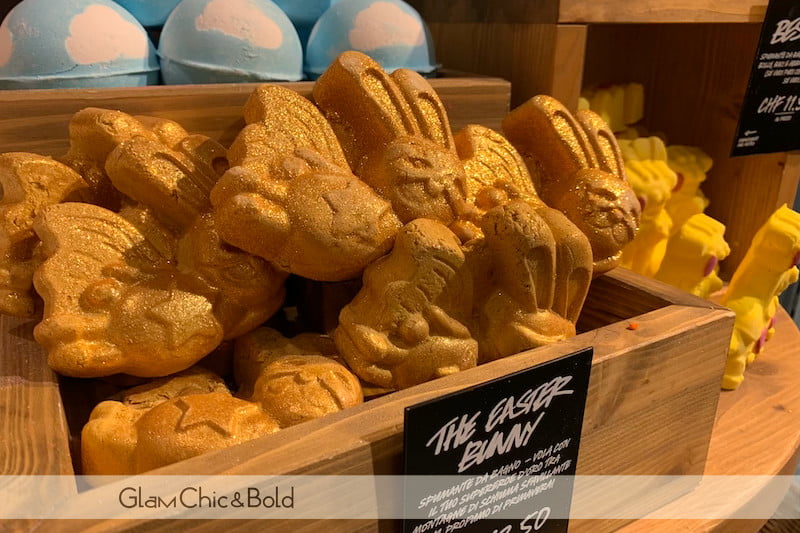 The bunny dresses up as a super hero to fill your bath with lots of suds! This The Easter Bunny bath foam from Lush for Easter 2022 will brighten and scent your bath with a pleasant aroma of grapefruit and juniper. Simply crumble in a few pieces of the product to get just the right amount of foam.
Bath Bomb Disco Duck
This bath bomb from Lush for Easter is really fun – it looks like a duck and has a texture that mimics a disco ball. With guarana powder, you'll find the right boost of energy to get through the day!
Shower gel What's up, Doc?
This shower gel presents us with a real cocktail of good cheer, with carrot juice and vitamin A to help your skin gain more radiance. It's on sale in three sizes to try and satisfy everyone's needs, from those who want to spend little or want to fill up on more Lush novelties for Easter.
Sapone Flowering Carrot
This really funny soap takes the form of a scented carrot, rich in olive oil to soften the skin. Inside the soap you'll also find antioxidant carrot powder to help keep your skin toned and slow down the appearance of the signs of ageing.
Body Scrub Down the rabbit hole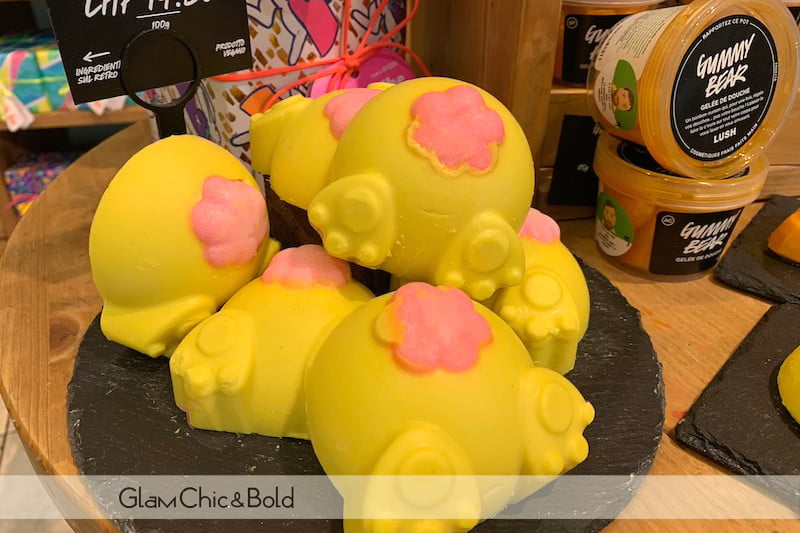 This Easter scrub by Lush is really fun – you can use the bunny's little butt on your skin to remove dead skin cells with gentle exfoliation. The ground rice softens the skin, especially the driest areas, leaving your skin with a pleasant grapefruit and raspberry scent. In addition, cocoa, shea and illipe butter deeply moisturise the skin!
Helly shower Gummy Bear
This bunny-shaped shower jelly will help you gently wash your skin and you can even lather up your hair. The fresh mango and seaweed juice will allow you to shower with a completely vegan product that will leave your skin soft.
Lip oil Carrot Stick
To soften the lips here is a soothing stick with carrot, grapefruit and antioxidant parsley seed oil. Lips will immediately appear more nourished and softer. Of course, before moisturising, you will need to use an ad hoc product such as the one I present below.
Lip Scrub Funfetti Cake
Here is a scented and coloured scrub that you can use to remove film from your lips and prepare them for the next step: moisturising.