It's November and this is the last month to buy a 2021 advent calendar: today I'm showing you the best ones you can buy. But hurry up, because many are already sold out!
Advent calendar by Sephora 2021
ILet's start by talking about the Sephora calendar that you can buy in your perfumery from now on: inside it you can find a selection of the best Sephora Collection branded products. As usual, there are 24 boxes (from 1st to 24th December) that you can open while waiting for Christmas day. Inside you will find make-up, skincare, accessories and much more.
Mini Cleansing Wipes (Coconut Water)
Charcoal Nose Strip (full size)
Mask Stick (full size) in Watermelon or Bamboo
All Day Hydrator-Hydrate + Glow (mini)
Triple Action Cleansing Water-Cleanse + Purify (mini)  
Bright Skin Exfoliating Scrub-Exfoliate + Smooth (mini) 
Coconut Face Mask (full size)
Eye Mask (full size) in Cucumber, Lychee, or Pomegranate 
Fizzing Star (full size) in Cotton and Monoi
Lip Liner To Go (mini) in 03 Classic Red
Eye Pencil To Go (mini) in 01 Intense Black
Cream Lip Stain (full size) in 13 Marvelous Mauve
Color Hit Nail Polish (mini) in Cherry Popsicle, Rose Bouquet, Gel Effect Top Coat
Colorful Eye Shadow (full size) in Girl Talk (glitter) and My Dear Nude (matte) 
Scrunchie 
Pocket Mirror
Hair Clips 
Mini Nail File 
Phone Accessory
The Sephora Collection calendar costs 49.90 CHF in Switzerland at Manor and 39.90 euros in Italy.
Advent calendar by Essence 2021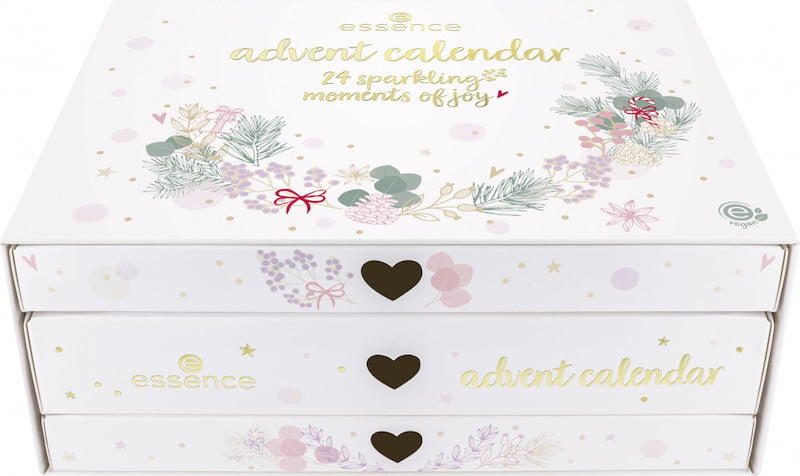 Another 2021 advent calendar for Christmas to discover is Essence's "24 sparkling moments of joy": this year the Kosnova brand has decided to surprise us with a calendar divided into three drawers that contain, in turn, boxes with days. Once again, you will be able to find many small products useful for your make-up, but also accessories to add to your look. Below is a list of the products you will find inside:
primer 
eyelash curler 
brush cleaning accessory 
face jewellery 
sponge
lip scrub
nail file
hand mask
nail stickers
eyebrow brush
Blender Brush & Essence Eyeshadow Shader Brush
I Love Extreme Volume Mascara 01
Kajal Eyeliner Pencil – 01 Black
hair elastics
illuminant
Blush – Luminous Blusher
mirror
lip balm
Juicy Bomb Shiny Lip Gloss – 01 Proud Pitaya
lip scrub
lipstick
nail polish – Mini Fix & Gloss Nail Polish Top Coat
nail polish – Mini Nail Polish Primer Base Coat
Mini Nude Nail Polish Nail Polish
The cost of this calendar is approximately 32.95 CHF in Switzerland and 29.99 euros in Italy.
Advent calendar by Amazon beauty
Did you know that Amazon also offers an advent calendar? Yes, if you're a beauty enthusiast, don't miss it. The Amazon beauty 2021 advent calendar comes in a very Christmassy packaging with 24 boxes of all sizes. In the boxes you will find products suitable for your make-up, skin care and hair care. The contents are detailed below:
Quinoa Hair Food Naturtint pack for coloured hair;
Remington D2400 travel hair dryer;
Nivea multi-purpose moisturising cream;
two Nails nail polishes. Inc, red and gold glitter;
eyeliner The Color Pen Eyeliner 3INA, grey green;
Deborah 24 Hour Instant Maxi Volume black mascara;
Marvis Aniseed Mint toothpaste;
Nivea Naturally Clean solid facial cleanser with almond and blueberry oil
N.A.E. Delicacy shower gel, with orange blossom extracts;
Belei face mask with grape extract;
Euphidra hair conditioner with hyaluronic acid;
moisturising eye primer base The Eye Primer, 3INA, in deluxe format;
Hydro Cellular Hyaluron Babor Doctor moisturising face cream for dry skin;
Biopoint Extreme Repair hair mask;
Advanced Ceramide Eye Serum Elizabeth Arden;
OPI Nail Lacquer, colour Big Apple Red, vibrant apple red;
Aloe Dermo-Gel body cream, Equilibra, with aloe vera;
Pro-Collagan Marin Elemis face cream, with collagen and seaweed;
limited edition lip balm My City Labello;
Luna Mini 2 Aquamarine Foreo facial cleansing brush;
Belei contour patch, with caviar extract;
Revlon's Restart micellar shampoo for dry and frizzy hair;
eyeliner The 24h Pen Eyeliner 3INA, in black; :
The cost of this Amazon advent calendar is €69.95.
Calendario dell'avvento Kiko 2021
This year, the Kiko Milano also delights us with a truly elegant advent calendar in shades of red and gold. To look forward to Christmas 2021, you can open the boxes of the magical calendar and discover many useful gifts for your make-up. The Christmas boxes contain no less than 24 gifts for make-up and skincare, in both large and small sizes; don't forget that you can also find accessories! The contents are detailed below:
Standout Volume mascara
lipstick lip mousse Holiday Fable 5
Glow Fusion 02 Sweet Dreams liquid face illuminator;
Smart Colour 05 Coffee Mat mono-shadow
Smart Shading eye brush;
nail polish New Power Pro Nail Lacquer 14 Cold Gold;
Smart Fusion 507 Rosewood creamy lip pencil;
Smart Fusion lipstick, 407 Rosewood;
Smart Colour Eye Pencil, 05 Mat Brown;
Smart Eyeliner brush;
false eyelashes;
Cleasing Cotton Pads;
Holiday Fable mini lipstick;
mirror;
Smart Colour blush;
Pure Clean face and eye make-up remover wipes;
Smart Colour Blush 05 Coral;
New Power Pro Nail Lacquer 23 Cherry;
Smart Colour Eye Shadow 12 Rosy Sand;
beauty blender;
eyebrow tweezers;
Smart Eye Pencil 16 Anthracite;
hairpins;
Smart Fusion Lip Pencil 504 Rosy Biscuit;
The cost of this calendar is €44.99 in Italy and Switzerland.
Advent calendar for 2021 by Mac
Another novelty in the field of advent calendars is offered by Mac Cosmetics with this super colourful box with a hypnotic print! Once again, this is a calendar designed for those who love make-up, so much so that all the gifts you'll find inside the calendar will allow you to put on a complete make-up. Below is the list of contents:
3 mini eyeshadows (Brun, Expensive Pink and Goldmine);
2 Soft Matte eyeshadows (Vintage and Devoted to Chili);
Paint Pot Pro Longwear cream eyeshadow;
mini Sized-To-Go pigment in Tan;
Mineralize Warm Soul blush;
3 mini Matte Lipsticks (Ruby Woo, Chili and Velvet Teddy);
2 Matte Lipsticks (Mehr and Taupe);
Brow Set eyebrow gel;
mini mascara In Extreme Dimension;
Prep + Prime lip primer;
Powder Kiss liquid lipstick in the Mull It Over shade;
Tinted Lip Glass lip gloss;
Clear Gloss lip gloss;
illuminating face cream Strobe Cream;
mini oily cleanser Cleanse Off;
mini Prep + Prime Essential Oils nourishing oil;
Prep + Prime Fix Refreshing/Hydrating Spray
Prep + Prime Natural Radiance face primer (Radiant Yellow);
In Italy you can buy it for 159 euros and in Switzerland for 360 CHF at Douglas.
Calendario dell'avvento Lancôme 2021
For those who are looking for an advent calendar from a luxury brand, I would like to point out the one from Lancôme: as you can see, the French brand has decided to offer us a Paris-themed calendar for the holidays. Inside the boxes you can find many make-up and skincare products. Below I leave you the list of products that you will find inside:
Hydra Zen gel face cream, moisturising and anti-stress;
Bi-facil biphasic eye make-up remover, also for sensitive skin;
Lash Idôle mascara, 01 Noir;
Advanced Génifique anti-ageing face serum;
Advanced Génifique mini eye contour and eyelash serum;
Hypnôse volumising mascara, 01 Noir Hypnotic black;
Absolue eye serum, revitalising with rose extracts;
Absolue face cream, anti-wrinkle with rose extracts;
Absolue Huil Nutrition Lumière body oil, hydrating rose essential oil;
La Vie Est Belle fragrance;
La Vie Est Belle nourishing body cream;
La Vie Est Belle shower gel, invigorating and moisturising;
fragrance Idôle;
Idôle body cream;
Monsieur Big mini volumising mascara, 01 Big Is The New Black;
Douceur micellar water;
Tonique Confort facial tonic for dry skin;
Advanced Génifique Light Pearl eye and eyelash serum;
Effacernes concealer, 02 Beige Sable, long-lasting with a natural finish;
Prep & Matte face primer;
Confort hand cream, with acacia honey extract and rose water;
Rénergie Multi-Lift anti-wrinkle face cream;
mini lipstick L'Absolu Rouge Ruby Cream, 03 Kiss Me Ruby;
mini lipstick L'Absolu Rouge Drama Matte, 505 Adoration
The cost of this calendar is 112 euros in Italy and 109 CHF in Switzerland at Manor.
You can read my post about the advent calendar by Lush for Christmas 2021!