The Easter holiday are approaching and Lush offers us many scented novelties: a few days ago I went to the store to discover the collection and I show it to you below!
Bumble Blower Singing Daffodil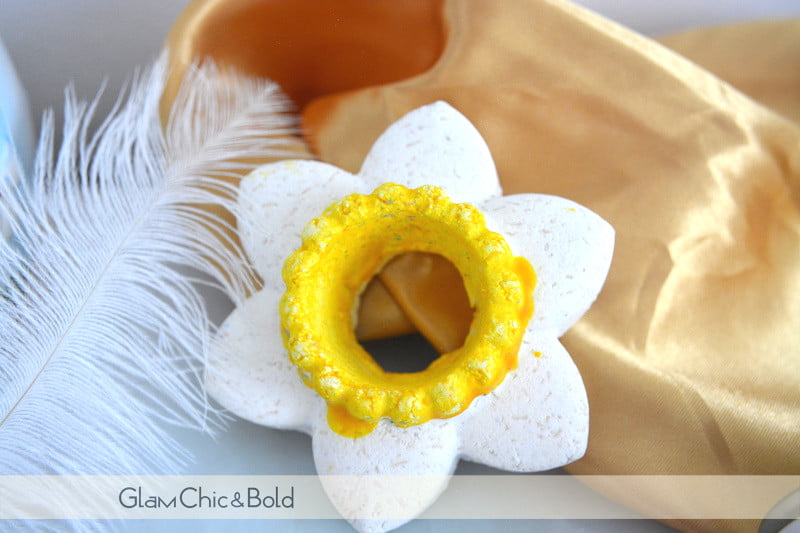 Let's start by talking about this beautiful product from an aesthetic point of view: the Singing Daffodil bath sparkling wine by Lush, a flower with which you can perfume your bath tub, playing with bubbles. This product contains the absolute essence of helichrysum flowers with soothing properties, but also the essential oil of marigold with antioxidant properties and ylang ylang that stimulates a good mood.
Soap Avo Good Easter
The next product that I present to you is the emollient avocado oil soap which has precisely a form of this exotic fruit: a real delicacy that when passing it on damp skin generates foam. Its avocado scent, combined with tropical verbena and bergamot essential oil. Please remember to keep the product dry!
Body Butter Walter Bunny
Let's stay on the Easter theme with this bunny which it is a very fragrant body scrub balm: its chocolate scent will leave you breathless! Inside its formula, murumuru butter, cocoa essence, and a mix of cocoa powder, absolute essence of vanilla and corn flour have been inserted that makes a delicate scrub, without oil residues.
Bath BombFollow the White Rabbit
You can immerse this white rabbit in your bathtub to fill it with scents and colors. Inside this bath bomb have been inserted essential oils of bergamot, bucco and Sicilian lemon which are intended to bring good mood and well-being and has antiseptic properties.
Bath Bomb Eggy Wegg
Another bath bomb to try is Eggy Wegg, who will fill your bathtub with scented, pink water. The benefits offered by this Lush bath bomb are given by the essential oil of Sicilian lemons, spearmint and baking soda.
Bath Bomb The owl and the Pussycat
A real little boat moves around your bathtub to celebrate Easter with you: if you want to have fun during your relaxing moment, this bath bomb transports an owl and a kitten on a boat. Cream of tartar, sodium bicarbonate, pea pod powder and algae agar agar extracts have been included in this product. Depending on your tastes, you can melt a single bath bomb or all three.
Bath Bomb Humpty Dumpty
A cute Easter egg will fizz in your bathtub thanks to this Lush bath bomb: inside there is Brazilian orange essential oil, bergamot essential oil and baking soda. Inside this little egg you will find a surprise by simply exercising a little
Soap Muddy Carrots
Another Lush soap from the Easter collection that you will have to try is just that: super creamy, with clay and carrot, ideal for making the skin soft and fragrant. Inside was inserted the Moroccan mud of Rhassoul, fresh infusion of carrots, essential oil of grapefruit. You can use it under water and use several times, as long as you leave it dry.
Scrub Funfetti Cake
The lip scrub that I present to you is Funfetti Cake really ideal for removing cuticles from the lips and making them soft. The scent of this product is extraordinary: inside there are Sicilian lemon essential oil, absolute essence of vanilla and granulated sugar.
If you are curious and want to buy something from Lush Lugano or Locarno (obviously also from Lush Italy and all of Switzerland) I suggest you move, as these are limited edition products. Alternatively, however, you can make your purchases without respecting the Lush Lugano and Locarno timetables directly on the web. By consulting the Lush online website you will find an area dedicated exclusively to the Easter collection: don't forget to take a look at the gift sets too!