How many times have you eating a nice croissant, even if you have already had breakfast? I think they are among the most delicious desserts to be proposed to the table, and why not, even for a picnic. For this reason I decided to participate in the contest PicNic by the blog Kitchen Pinching with the recipe for croissants browsed, lactose-free.
Recipe
croissants browsed
INGREDIENTS
275 grams of flour 00
275 grams of flour Manitoba
90 grams of sugar
115 grams of milk free lactose
2 eggs
Grated lemon peel
15 grams of fresh yeast
170 grams of cold water
30 grams of butter at room temperature free lactose
290 grams of butter free lactose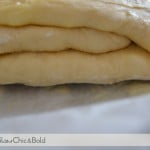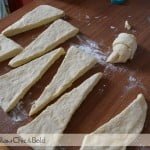 HOW TO DO
Combine the flour in a bowl after being sieved;
In the bowl of kitchen robot, put the water, yeast chopped and only 150 grams of flour;
Knead to mix well, cover with plastic wrap and then allow to rise for 1 hour;
Operate again with the kitchen robot and add 3 tablespoons flour, 1 egg yolk and once absorbed add the sugar;
Then alternate flour and milk until they are exhausted and the dough is smooth and elastic;
Put your dough on the pastry board, add in the center 30 grams of butter and g

rated lemon peel

and then knead by hand for 20 minutes;

Cover with plastic wrap and then allow to rise for 1 hour;

A few minutes before you take the dough, spread the butter with the help of two sheets of parchment paper and a rolling pin;
Get a rectangle about 25×20 inches and then you will have to superimpose it (pay attention 'cause the butter will not too soft) on the dough stretched (40 x 20 inches);
Leave free from butter the top of the dough and then fold on the butter the top of the dough and then the other part of dough;
Put it for 10 minutes in the fridge with

plastic wrap;

Roll out the dough with the bottom side front of me and the side of "book" on the right and a thickness of 8 mm;
Fold the bottom and then the top of the dough and put in the fridge for 40 minutes, covering with plastic wrap;
Repeat this operation two more times;
Roll out the dough in a rectangle from which to derive the isosceles triangles with base of 9 cm;
Proceed to the realization a cut at the base of them and then realize the croissant;
Cover and let rise for 2 hours and a half;
Brush with egg and bake for the first 5 minutes at 200 ° C fan oven and then reduce to 180 ° C convection oven until you get the golden croissant browsed;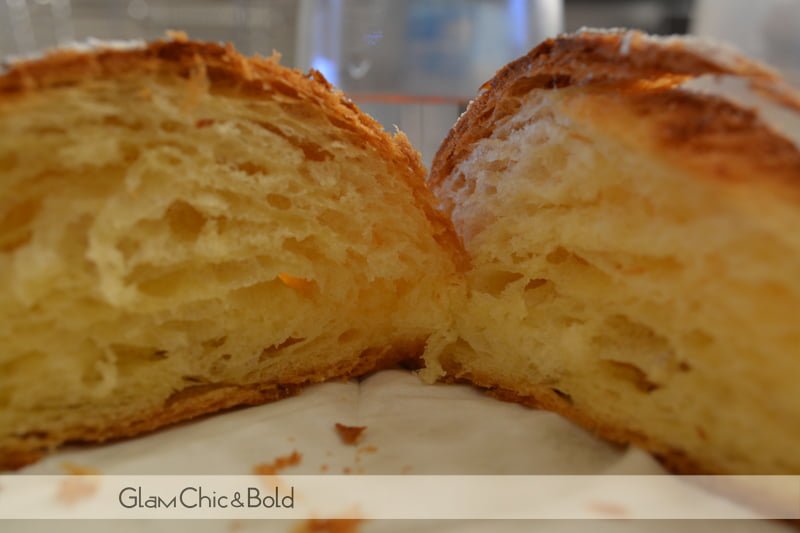 This is my recipe for the contest PicNic by Kitchen Pinching!