Lush celebrates the feast of lovers with a new special collection, characterized by floral fragrances and "symbols" that recall love in its purest form. Let's find out together which are the unmissable pieces of this collection.
The offers of Lush products for 14th of February 2021 are very interesting, as we find a colorful and fragrant assortment, as happens for any other party. Let's discover together the Lush Bath Bombs, but also soaps and massage products.
Bubble Blow Blow Me a Kiss by Lush
If you are looking for something special to enjoy in your bathtub, this bubble blow is perfect for you! This bubble blow on a stick takes the shape of the mouth and allows you to play with soap bubbles that you can create in no time. The fragrance is pleasant and the ingredients included are bergamot essential oil, with invigorating power, davana essential oil that awakens the senses and is aphrodisiac, and a mix of cream of tartar and bicarbonate.
Massage oil Rose Argan by Lush
With a romantic style, this massage oil is a real February must-have for those who like to relax: it is rich in ruby cocoa paste (pink chocolate), argan oil, rose water, rose oil and Pakistani rose essence. If you like rose, you can't help but use this massage oil to moisturize your skin. Please do not store this product in the heat, otherwise it will melt!
Bath Bombs by Lush Love me Do and Hear Beat
These two bombs from are splendid both from the visual point of view and for the fragrance! Love me Do is a very special bath bomb, wrapped in a delicate white gauze that contains rose petals and lavender essential oil inside. The fragrance with absolute essence of Damask rose from Pakistan will awaken all the senses in the bath, coloring the water in ruby pink. Even the Hear Beat bath bomb by Lush is a mix of essential oil of rose and geranium that will perfume and color the rose water. Inside, there are also citrus notes of Sicilian lemon essential oil.
Massage Oil Naked Attraction by Lush
This massage oil is really fun: Lush Naked Attraction massage oil I already showed you last Valentine's Day and we find it again this year. The product is enriched with moisturizing butters (organic cocoa butter and fair trade shea butter), absolute essence of mimosa and is massaged directly on the skin.
Bath Bomb Love Boat by Lush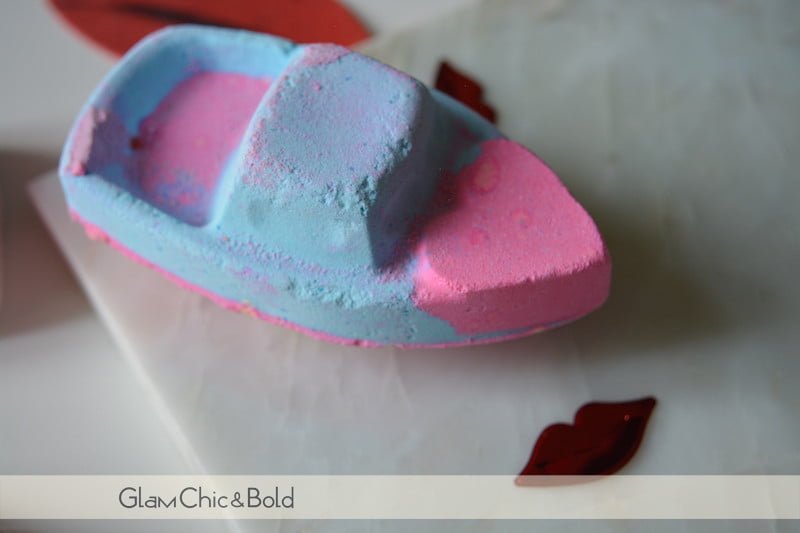 The Lush Love Boat bath bomb takes the shape of a love boat that you can dip into your bathtub to have super colored water in shades of pink, lilac and light blue. The scent is truly captivating: inside there are essential Sicilian lemon oil, organic sweet orange and sodium bicarbonate to soften the water on the skin.
These are some of the products that I have tried in the past and that I have kindly received from the company for this Valentine's Day, but in the store you will find many other products that are perfect for a Valentine's Day gift.