I can officially introduce you to the new Lush Halloween 2022 collection: the spooky new line takes us into a spooky world, but just as scented with citrusy notes and fragrances, with some proposals from the past as well. Let's discover together everything you can find in shop and on the official website!
Shower Jelly Tarantula Lush
This shower jelly really does look scary, but I can assure you that its delicious scent of cherry and amaretto will intoxicate you. This mega spider, by the way, is not completely black, but is enriched with orographic glitter that you will be able to find during your shower. In addition to the presence of the first two ingredients I listed, there is activated charcoal, ideal for a purifying action on the skin. To use it in the best way, simply pass it over damp skin and you're done!
Shower Gel Blood Orange Lush
Also with this collection there is a tasty shower gel: I am talking about Bollo Orange from Lush. This product has as its first ingredient the infusion of orange peel and, as a result, you will be able to feel the preponderant citrus note inside. The product is offered to the public in three sizes, 120 grams, 290 grams and 555 grams.
Bath bomb Screamo
This is definitely the funniest bath bomb in the entire Lush Halloween 2022 collection. Already as the name suggests, this bath bomb resembles the scary character from Scream. The water will turn cobalt blue and smell of cherry and almond!
Bubble Bar Cyclops
Another fun product from Lush's Halloween 2022 collection is this bubble bar. If you want to treat yourself to a scented moment of fear with this product, all you have to do is crumble some of it under the jet of water: in this way, your bathtub will be filled with lots of passion fruit-scented, rose-tinted foam. The appearance of this cyclops is certainly funny: pink in the shape of a pyramid!
Bubble Bar Alien
Also returning to our bathrooms is the Alien bubbole bar: again, all you have to do is crumble the product under the water jet to have your bathtub transformed. The water will be tinged with a fluorescent green colour, while the air will be intoxicated with notes of citrus, bergamot and tropical verbena. Remember, if you don't use all the bath foam, make sure you dry it well and keep it cool!
Body Scrub Tool and Trouble by Lush
If you have the need to exfoliate your skin and you want to do it with something magical, I suggest you try the new scrub from Lush. It is a really special product where you will also find a bat that will help you exfoliate your skin better. The scent is really pleasant: peppermint with lavender and sea salt.
Fun Monster Mash by Lush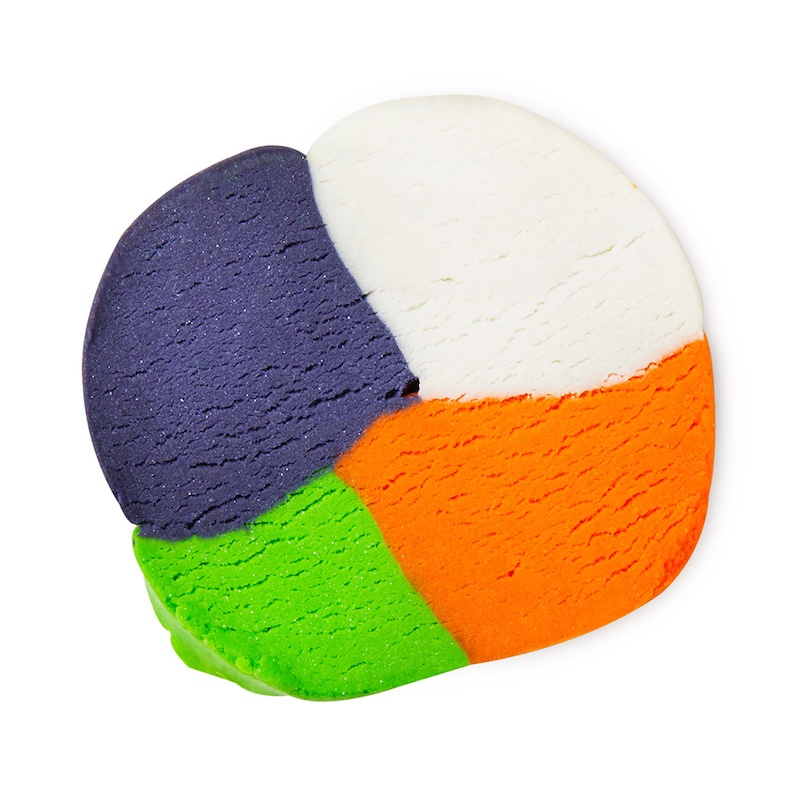 I think this product is the most fun to use with children (but also as adults). You can shape this product to create your own works of art and, at the same time, wash yourself smelling of citrus and herbal essential oils.
Lip Scrub Vampire Kisses
Lush's scrubs are always a guarantee for me: for this Halloween 2022, the brand offers a scrub with sour grapes, jojoba oil (with nourishing properties) and with sugar crystals that help to remove the skin, making it softer. Please note that this is a 'plastic free' scrub!
Bath Bomb Ufo
Is a flying saucer about to land in your bathroom? Well yes, this bath bomb is really fun with its spaceship shape it will paint your bath water in a fluorescent colour, with a lemonade scent!
Bubble Bar Labyrinth
This bath foam is also really fun: first it comes in my favourite colour, fuchsia, and on top it is engraved like a real maze to escape from. The scent of this bath foam – which you have to crumble under water as usual – is quite spicy!
Bath Bomb Ghostie by Lush
This bath foam is also really fun: first it comes in my favourite colour, fuchsia, and on top it is engraved like a real maze to escape from. The scent of this bath foam – which you have to crumble under water as usual – is quite spicy!
Bubble Bar Bubble Lugosi
You can put this red berry bubble bar under the water jet to make your bathtub fill with lots of foam. The appearance of this bubble bar is amusing: in fact, it looks like Dracula with his long red fangs.
Bath Bomb Big Foot
You can use this monster-sized bath bomb to fill your bathtub with pink and blue water, scented with lime, neroli and olibanum. Its ingredients include Epsom salt and Himalayan rock salt to help relax and moisturise the skin.
Bath Bomb I want my mummy Lush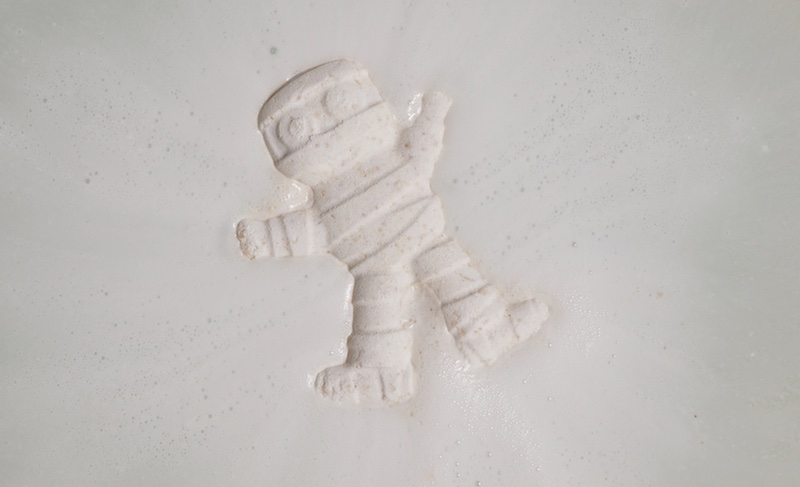 If you like caramel, this bath bomb can help you relax in your bath. With this product you can indulge in a moment of relaxation and pamper your skin with cupuaçu butter.
Bath bomb Punkin Pumpkin
A Halloween classic is undoubtedly the pumpkin: we find this product again with this collection from Lush. The water in your bathtub will turn bright orange thanks to the pumpkin powder contained in it. Your skin will then be much softer!
Bath Bomb Bath Art
Another bath bomb you will find available during this festival is the bat-shaped one: this product is enriched with rosemary and sage, which have purifying properties.
Bath bomb, body spray, shower gel and solid oil Lord of Misure
A fragrance that has always been a must is back, and we find it not just in one product but four: the bath bomb, the shower gel, the body spray and the solid massage oil. Within the formula of these products is with carregenine, which makes the skin soft, but we also find a touch of Sumatra patchouli and black pepper.
I remind you as usual that for each collection Lush offers a series of gift packages and themed Knot Wraps!